Plex: 20 September 2023
Transformative Impact Summit; Nora Bateson's "Combining"; "The Week" Update; U.S. 395; Finding Ourselves in Stories and Narratives; Crystallizing "The Story of Soil"; Buddha; Questioning the Need for Speed; Water; Some Thoughts on Changing Unconscious Behavior; Wisdom in the AIceberg

The Biweekly Plex Dispatch is an inter-community newspaper published by Collective Sense Commons on first and third Wednesdays of each month. Price per issue: 1 USD, or your choice of amount (even zero).
In This Issue
---
Transformative Impact Summit, NYC 9/22-24 (Vincent Arena)
Nora Bateson's "Combining", NYC reading 9/30 (Wendy McLean)
"The Week" Update (Wendy McLean)
U.S. 395 (Peter Kaminski)
Finding Ourselves in Stories and Narratives (Wendy Elford)
Crystallizing "The Story of Soil" (Klaus Mager)
Buddha (Jack Park)
Questioning the Need for Speed (Todd Hoskins)
Water (Ken Homer)
Some Thoughts on Changing Unconscious Behavior (Ken Homer)
Wisdom in the AIceberg (George Pór)
---
Transformative Impact Summit, NYC 9/22-24
h/t Vincent Arena
The Transformative Impact Summit is happening in NYC this weekend, September 22-24th. It will bring together change-makers, impact organizations, and
investors to collaborate and connect. The event is in-person only.
There are speakers, hackathons, speed networking, and ecosystem mapping with Catalist and Open Future Coalition. Impact tracks include Ecological Transformation, Economic Transformation, Technological Transformation, and Social Transformation.
Check out the schedule and registration at https://www.transformativeimpactsummit.com/p/2023.
---
Nora Bateson's "Combining", NYC reading 9/30
h/t Wendy McLean and Trae Ashlie-Garen
Nora Bateson's new book "Combining" is coming out in October! From the Triarchy Press "Combining" page:
In Combining, love, humor, curiosity, and vulnerability entwine amidst the trials of a world in flux. As we face the Polycrisis, Nora Bateson urges us to swerve from the traditional paths and to dismantle the illusions of fitting in. She beckons us to step into a world where learning, uncutness, and readiness converge, promising both revelation and revolution.
There is a launch event on September 30 in NYC: Combining: A Reading by Nora Bateson.
Also, Bateson was just on Tim Logan's Future Learning Design Podcast, Sep 03, 2023 episode: On Warm Data in Education - A Conversation with Nora Bateson. (Apple Podcasts page. Scroll down and click on "Episode Website" for the Spotify page.)
---
"The Week" Update
by Wendy McLean
Dear Ken [Homer] and Plex readers,

I wanted to share an email I recently received, because it made me so happy.

WOW!  All I can say is how excited I am that The Week continues to be so successful in spreading their messages sparking awareness and action to more and more people. Love seeing the survey results and what effect it has had!  

Thank you Ken, for introducing me to The Week in the first place.  I somehow feel involved in sharing the excitement of this success, because the more this spreads, the better for all of us!

Just sharing with you, dear Plex readers, because it seems like an important moment to share that sense of celebration.  Don't you think?
Blessings,
Wendy
From: Frederic Laloux <frederic@theweek.ooo>
Date: Wed, Sep 13, 2023 at 3:48 PM
To: Helene Gerin <helene@theweek.ooo>
Dear friends  of The Week,
We launched The Week in January, slowly at first to test the infrastructure and then more widely. Since then, lots has happened and we have plenty of good news to share with you.
Here is an update on where we stand.

We are very happy with the early response we get
The Week seems to achieve exactly what we hoped it would: the survey responses from participants are very encouraging: We reach our target group (the not already convinced), and they experience a strong inner shift and social shift, and feel agency to take action. (More below)
To date, 4,000 groups have signed up to participate with 30,000 people.
Below, we share a few stories from participants - so you have a sense of the kind of stories we are lucky to receive more and more often.
It looks like this is the beginning of something big
We got a particularly strong start in France, the first country where we've had an "activator" on the ground. We now aim to emulate this trajectory in the US, UK, and Germany.
When we reach out to large networks, our best activation tool is to suggest people try The Week. We've learned to be patient, as sometimes it takes 2 or 3 months or more for them to schedule it… patience!...  But when they do, they are often so touched that they start to spread it.
Our most exciting example of this: the head of sustainability of a large company fell in love with The Week. He invited us to present The Week to the 200 heads of sustainability of the largest French corporations (with a total of 5.5 million employees), many of whom will now try it… and then might roll it out in their organizations.
We now have a solid small team in place
Leila Hoballah and Pauline Magnat are now firmly in the lead of The Week - which allows Helene and me to be in support where needed (and slow down and rest a bit).
The team now consists of one activator in France (Bhadraka), one in the UK (Meg), Germany (Carolin), two in the US (John and Robb), a freelance tech team (headed by Mayssa) and someone in charge of finance and HR admin (Stephanie).
Our ability to scale depends on fundraising
At this stage, funding is our limiting factor. Everything is in place for a big scale-up. Please make a donation if you can or put us in touch with potential donors.
That's it for today. More information below if you are interested! Please reach out with any questions, encouragement, or suggestions.

Frederic, Helene, and the team of The Week.
---
U.S. 395
by Peter Kaminski
U.S. Route 395 runs through the US West from the Canadian border to the Southern California desert. From Reno/Carson City driving south, it runs through the Eastern Sierra Nevada mountains. It's beautifully scenic; here are a few photos taken along the highway.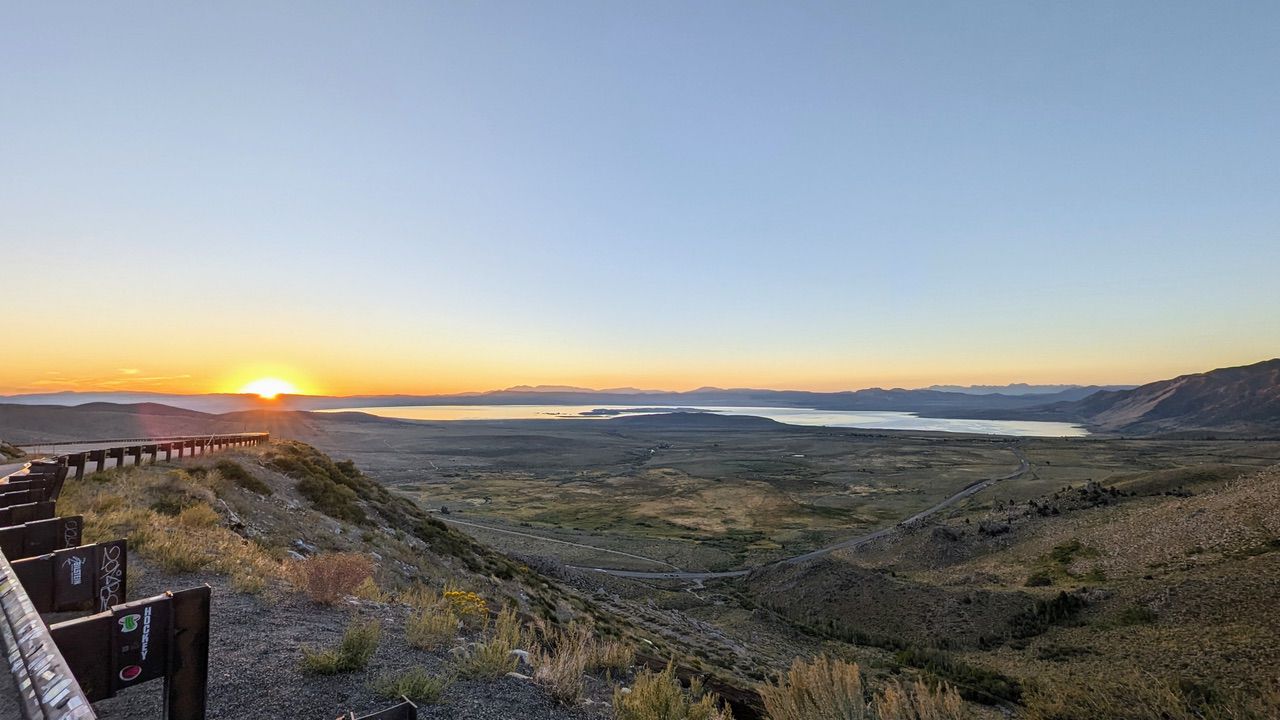 ---
Finding Ourselves in Stories and Narratives
by Wendy Elford
A setting for future sharing
One of the boons of having done higher studies is that you get to be exposed to a lot of really neat thinking and even get close to the people who did that thinking. These people become almost friends. Some of the ideas sink into you and become friendly and useful. So I'm going to write a series of posts which highlight ideas we might use as a community if we choose to. Little points of leverage we might point back to, debate or weave into our current projects.
Differences between stories and narrative
There are plenty of writers who debate the difference between stories and narrative, some of them quite well known and others not so much. To make things even more confusing, we get other phrases or terms like short forms like vignettes, micro narrative and anecdotes and more formal ones like myths, legends and parables. There are still more examples you might share with me around a virtual campfire.
The first distinction I took in was from H. Porter Abbott of Cambridge fame: narrative as retelling, a reconstruction, and stories as flow forwards in real-time. The tricky bit about this is that the story therefore includes all the details of every moment which means when it's retold it takes as much time to tell as it did to live through. This has a messy effect of needing us to use narrative strategies to cut some corners, to leave out bits and pieces to make things time efficient and to find elements to distort to create focus for more effect. You might say that narrative has creative distortions, deletions and omissions. I found a little ease in the idea that storytelling is then a very useful blend of the story bit and the narrative bit.
What I learned more than a decade later from Arthur W. Frank is more useful: the idea that stories are more personal up close lived experience that give us the bits and pieces for us to weave into a bigger, deeper narrative for ourselves. Big N Narrative we trip across in our communities and the world of text works in just the opposite direction. It's a larger, more formed or chunky weaving of bits and pieces of stories of lots of humans and it could be present at the level of culture or in an organisation or in a family. We, the single human, then take bits and pieces of the narrative consciously or not and bring that back towards us as we set up experiences that then become stories for us at a personal level. The personal narrative is in tension with the big-N Narrative. To use a metaphor, it's a little bit like an ecologist wandering through a big nature park and collecting images and maybe samples of some flowers, a couple of species of trees and some sketches of the features of the landscape. The story is what is collected out of the much bigger picture and it may become the entire experience told and retold later as if nothing else was part of what happened.
A third point is that there is a difference between oral and written instances of storytelling. The idea behind this is that you can never step into the same river twice because the river has changed and the person you are stepping in as has changed. Oral storytelling (narrative or retelling of the story) will be in a different situation each time you tell a story. There will be different instances of place and time constraints. Different props in the storytelling environment get a different reaction. The audience, from number to mood or any other measure – is not exactly the same audience. The story teller changes which bits they leave out, the assembly and action vary from the last time it was delivered. When there is a written culture, it might seem like the words and meaning are fixed. There may be a much heavier burden on the reader to make their own meaning when, from the practical perspective, the writer appears to have left the room. When re-read, a book often gives different meanings. Maybe the writer is still there!
A finishing reflection – perhaps stories and narrative are just a lively day to day conversation and a big part of the stuff of life.
---
Crystallizing "The Story of Soil"
by Klaus Mager
Dear Plex readers,
I think we can test run phase 1 of the NeoBook "The Story of Soil".
It has reached a point of what in Theory U language would be called 'Crystallizing'. We know what to do, but can't imagine how it would be possible.
At this stage we are ready to start prototyping. This NeoBook envisions this to be the moment of now, seeking the path forward.
I'm off the grid for 2 weeks to reflect and recover, would love to get feedback on the Google Doc, or in the NeoBook channel on CSC Mattermost.
Thank you,
Klaus
---
Buddha
by Jack Park
A Buddha image I shot with my droid phone this morning (2023-09-18). It's a ~3+ meter tall marble statue looking over the ocean at the Waikoloa Hilton north of Kona. (Image optimization by Peter Kaminski.)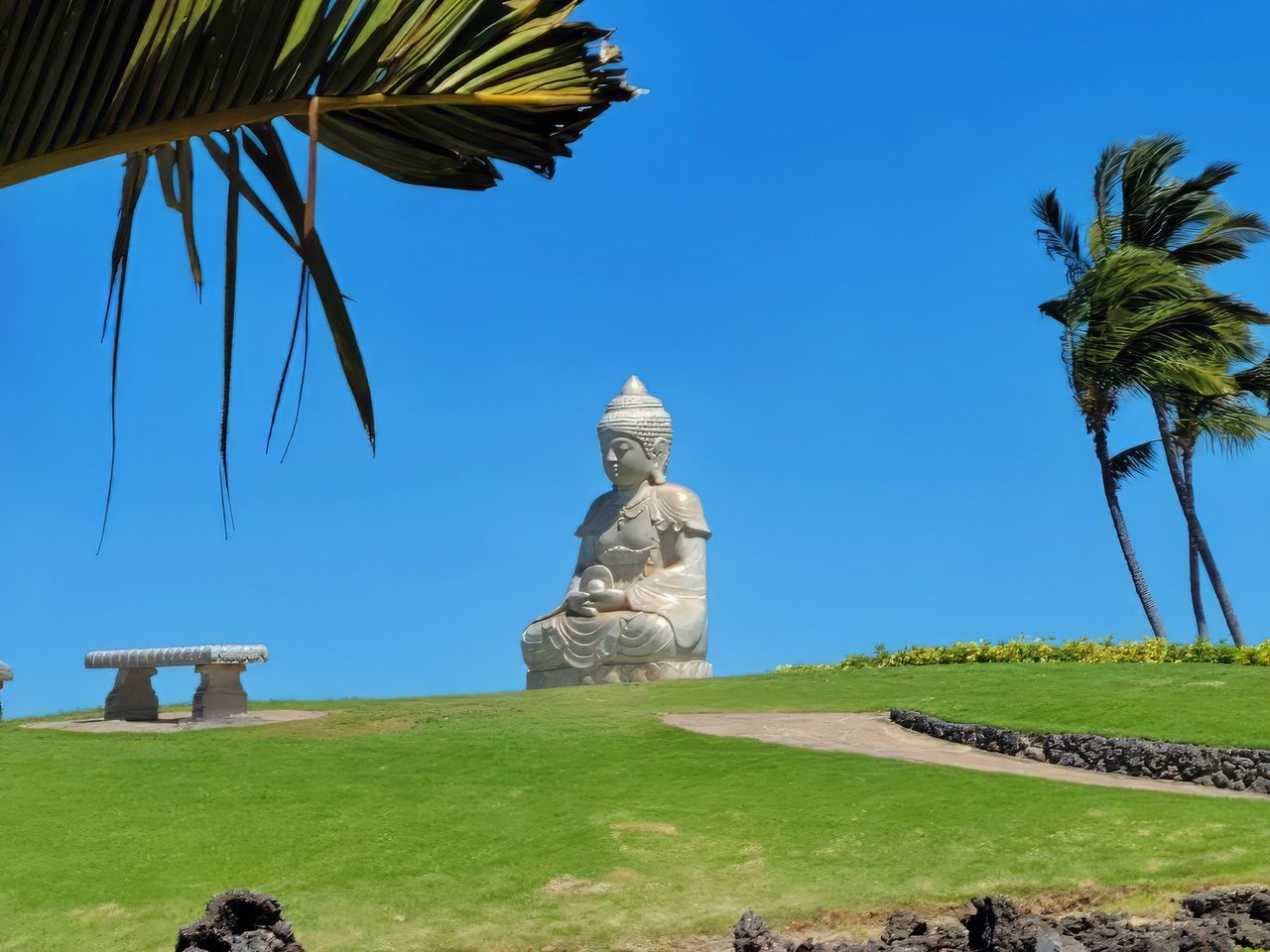 ---
Questioning the Need for Speed
by Todd Hoskins
Within the first few weeks of moving to Costa Rica last Fall, a local Tico remarked after learning I was from the US, "I don't understand why you people from the United States work so hard."
My first reaction was to be offended. Of course we work hard. That's who we are. That's our identity, especially being born into a protestant Christian family in the middle of the country.
It's easy to interpret comments such as these as "those people must be lazy." But that's not the case. It's neither negligence nor strength of will. The crew that is building our house work six days a week, eight hours a day. They take breaks and pace themselves, but what would you expect with the sun, heat, and humidity of this place? They persevere, but hardly ever rush.
In Costa Rica there is no need for speed, and little reverence for efficiency. The Tico who was questioning our "work ethic" was actually curious as to why we value our jobs, long days, and bragging about how busy we are. I started asking myself the same question, "Why do I need to work so hard?"
In the US, I believe younger people are asking the same question. And it's valid, especially when you see Ticos enjoying their days and lives more than North Americans typically do.
The standards here are different. People don't mind the bureaucracy–the lines at the insurance center or bank, the slow approvals, even the double check out (item check and cashier desks) at hardware stores. No one is trying to go faster unless they're in the tourism industry. Then they know that bad reviews can repel the gringos.
I see more clearly how North American values are so often based upon "what I do" rather than "who I am." What if I didn't need to prove to anyone that I'm capable? That I "earn" my "living"?
It's frustrating sometimes. It's harder to be on a schedule when you don't know whether going to a restaurant will take 45 minutes or 2 hours. Our permit for building took six months to obtain in a village of 500 people. But I also love the pace when I don't have North American deadlines. So maybe I will start questioning those as well.
---
Water
by Ken Homer
Taken on hikes in March '06 when we  had a wet winter.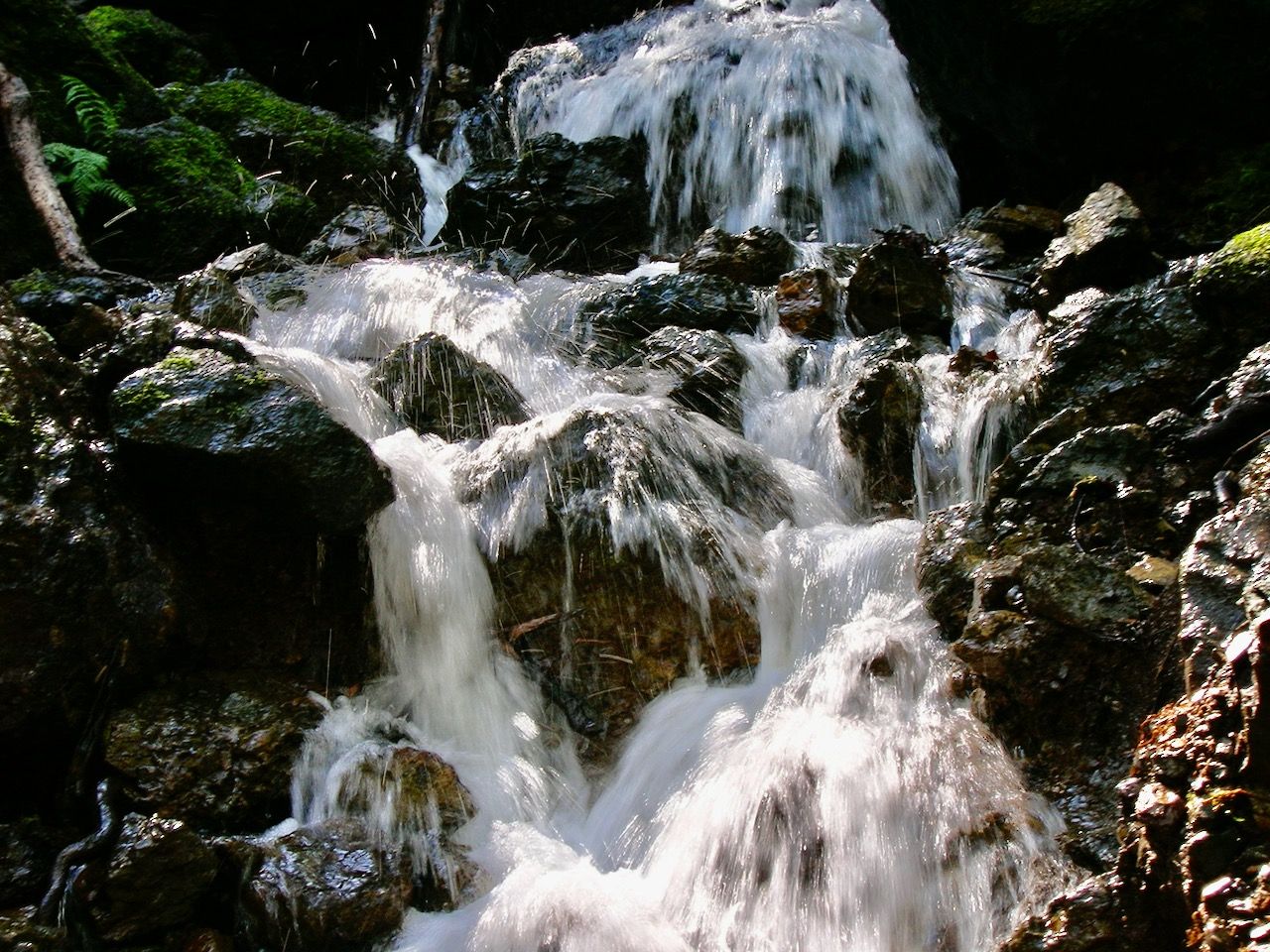 ---
Some Thoughts on Changing Unconscious Behavior
by Ken Homer
The vast majority of human behavior is unconscious. Unconscious behavior is intelligent behavior. Consider how, once you learn to drive a standard shift car, clutching and shifting become unconscious. The actions your mind and body need to perform move from the foreground of awareness and concentration to the background of automatic, unconscious behavior. Staying with the same analogy, if you've driven a standard shift car for several years, you'll notice how your left foot keeps attempting to clutch until your body learns it no longer needs to do so. Once unconscious behavior becomes embodied it's demonically difficult to change. But it can be changed if you know how to work with it.
I'd like to offer a five-step approach for changing unconscious behavior that I use in my coaching work.
1. A distinction that creates awareness – your coach provides a distinction that allows you to notice an unconscious (background or automatic) behavior so that you can become aware of how it is operating in your life.
2. Self-observing – the distinction allows you to bring something that was previously in the background and out of your awareness into to the foreground where you can observe its effects.
3. Anchoring – as you begin to observe yourself, you start to learn the many ways the behavior is anchored in your body. Behavior unfolds within and across your thinking, your speaking, your listening, your movements, your emotions, even your posture and breathing. It's critical to become intimate with the various ways the unconscious behavior shows up in these domains before attempting to make a change. Certain phrases, tone of voice, gestures, postures, etc., can become mindfulness bells* to alert you to when you are acting on autopilot.
4. New practices - once your self-observing has allowed you to notice how a previously unconscious behavior is working in your life, you need a new practice to replace it.
5. Support, feedback, and corrective actions – as you institute new practices, you need people around you who can support you in making the change. Ask trusted friends, colleagues, or family members to provide you with feedback as to how you are progressing. That will help you to course correct if you are not getting the results you desire. Caveat: This requires that you be open to hearing news you may not wish to hear.
*A mindfulness bell is a call to notice something. When the staff at Plum Village realized that they needed to install phones to handle to volume of visitors wishing to sit retreats, Thich Nhat Hanh agreed on the condition that whenever the phone rang, all those in earshot would pause, take a breath, smile, and then continue with what they were doing.
Let's see how this plays out in the real world. The following is drawn from my coaching practice:
Leadership at the coaching school where I obtained my Professional Certification contacted me and asked me to coach a student who they assessed as unable to pass the course.
When I first met Dave (not his real name) I was immediately struck by a behavior of his that was bothersome. Whenever I was attempting to explain a concept, he would jump in and cut me off before I finished the explanation. His interruptions took the form of: "Oh, so it's like this…"
[Distinction/awareness] I noticed that there was a physical (somatic) pattern where he'd lean forward with a note of urgency in his voice that wasn't present in other aspects of our conversations. I asked him if he was aware of this, and he admitted he was not. The next time he used the phrase I asked him to repeat it and to intensify it as he did so. I had him do this several times and I noticed that his expression changed, and I wasn't sure what was happening, so I asked:
"What's going on?"
"I just got really sad, and I thought of my father."
"What do you think caused that?"
"He was very harsh and demanding with me and he often called me stupid. I always tried hard to show him how smart I was."
[Anchoring] "Do you think your habit of interrupting and trying to show someone that you understand what they are saying before they finish their explanation might be tied your relationship to your father?"
Dave teared up, "I'm sure of it." (We took a minute to allow him to process the difficult emotions that were present before continuing).
[Self-observing] "Okay, that's really great awareness! Here's my suggestion for working with this. You now know that the phrase "So it's like this," means a particularly strong state has been activated in you. For the next two weeks simply observe how often you say it and what happens in your body when you say it. No need to change anything, just observe. Are you willing to do that?"
"Yes, of course."
When I met with Dave two weeks later, he was bubbling with excitement.
"Oh man! This was quite revealing! I had no idea how often I cut people off and try to show that I know what they are going to say before they finish. And I find I do it with my wife more than anyone."
"Terrific! Do you want to know what's next?"
"Please!"
[New practice] "The next time that you find yourself about to say, 'So it's like this,' I want you to take a deep breath and say, 'Tell me more about that,' and then listen without interrupting until the speaker is finished. Will you do that for the next two weeks and we'll check in then?"
"I can do that."
When next we met, Dave was even more excited than at our last meeting.
"How'd it go?" I inquired.
"Fantastic! I learned so much. My relationships with my three clients went to a whole new level. They told me things they never shared before. They even commented to me how much they appreciated being listened to without being interrupted. And with the new information I got, I started to have better ideas on how to work with them. I think this has really upped my ability to be a more effective coach!"
"Congratulations! That's wonderful news. How has this impacted your relationship with your wife?"
"Equally amazing! We are having more thoughtful and constructive conversations about our relationship, and she's asked me to look at some of my behavior and I can see that I need to make some changes. She has commented that the shift in my listening has allowed her to feel closer to me. I never realized how my interruptions impacted her and made her pull away from me. I really have to thank you for this, while simple, it has had profound effects on me."
"My pleasure. You have made great strides here. Do you want to know what's next?"
"Absolutely!"
"Ask your wife for feedback in the moment. Agree on a signal she can give you whenever you interrupt her. Since she is your primary relationship, she's the best person to give you feedback as to how you are doing and to alert you when your old habit shows up. Old habits are hard to break and it's possible they'll sneak up on you and overtake you without being aware that it's happening. So, ask your wife to give you straight feedback and to alert you if she experiences you reverting to your old ways. Do you think that's something you can do?"
"That's a great idea. Yes, I'll do that. Thanks!"
"You're very welcome."
I worked with Dave for three months and I am happy to say that he passed his certification with flying colors and is doing great coaching work to this day. I hope this model for behavioral change will prove useful to you.
---
Wisdom in the AIceberg
by George Pór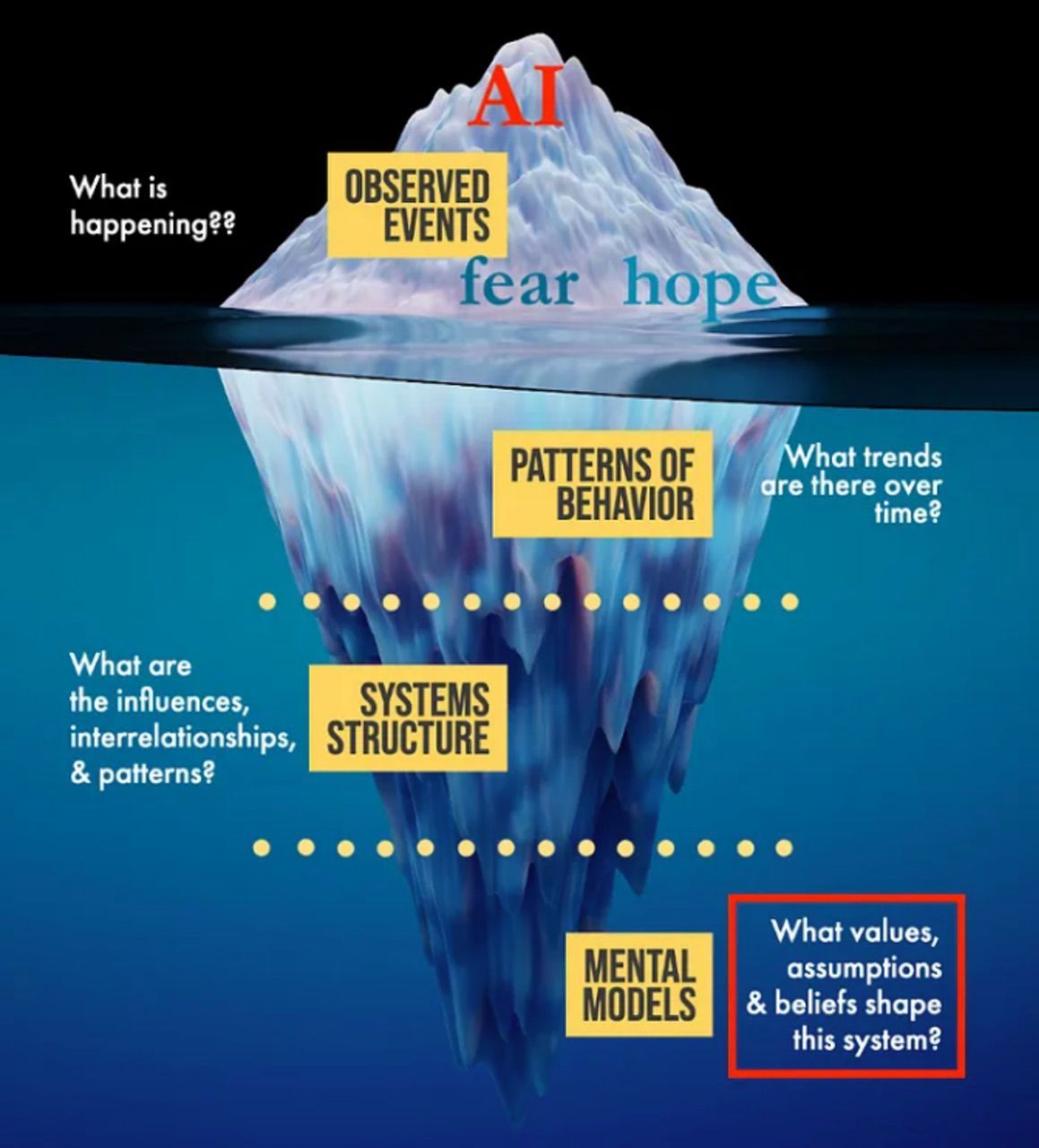 In a recent conversation in a Discord channel, a colleague quoted a panel commentator saying,
how linguistic choices around AI such as "hallucination", "emergence" and even "intelligence" are tactics tech companies use to try to humanise AI. Which allows them to position AI as a mystical object worth being curious about, therefore, increasing their use. In essence, (the commentator specifying that) AI being nothing but a "stochastic parrot" which is neither artificial nor intelligent.
My colleague added:
I am not surprised about hearing negative perspectives around AI's development. The worry around who controls AI and how it's projected is pragmatic. Shutting one down from exploring possibilities of a technology's potential capabilities isn't - in my opinion... Being 100% content about one's conclusions is in no other sector riskier than in futures thinking.
He asked:
What are your thoughts on that?
I replied:
that's true, and the AIceberg model explained here may help us understand why it is so.
Anyway, we can't change people's beliefs but we can move the edge of what is possible if we provide opportunities for new experiences by action design, action research, workshops, learning expeditions, rapid prototyping of Minimum Lovable Products, etc, no?
____________________
Btw, I try to walk my talk about action research by being the instigator for one about the Rise of Compassionate AI. On 13-Sept-2023, we had its Orientation to WHAT workshop (on Zoom + Miro), which will be followed by the Orientation to HOW (methodology) and Orientation to WHEN (roadmapping) workshops.
This research is conducted in partnership between RADAR and Future HOW. Our high-level research hypothesis is this:
A new social life form, the human-AI collective symbiont, can evolve from the Collaborative Hybrid Intelligence (CHI) of networked human and AI agents. To the extent that the cultivation of CHI is guided by the deepest wisdom and highest consciousness available to the collaboration, CHI and the resulting symbiont can demonstrate qualities of wisdom and compassion, promoting the flourishing of All.
Obviously, we need to develop pragmatic ways to validate that high-level hypothesis, by crafting relevant experiments with measurable indicators. That's what we use our Generative Action Research for. The research is presently self-funded. Grant writing support (with %-based reward) is welcome.
---
---
Thank you for reading! The next edition will be published on 4 October 2023. Email Pete with suggested submissions.
Grateful appreciation and many thanks to Vincent Arena, Charles Blass, Wendy Elford, Ken Homer, Todd Hoskins, Klaus Mager, Wendy McLean, Jack Park, and George Pór for their kind contributions to this issue.