Around The Plex, 6 April 2022
News and views around the Plex, 6 April 2022

The Biweekly Plex Dispatch is an inter-community newspaper published by Collective Sense Commons on first and third Wednesdays of each month. Price per issue: 1 USD, or your choice of amount (even zero).
---
In This Issue
Top of Mind
Global Regeneration CoLab
Kernel, Wise Democracy, Transformation, The Platform
The Power of Our Three Brains
Cycles of Co-Creation, Scaling Collaboration, the Co-creative Cycle, Tapestry, Seriously App
"Dawn of Everything" Book Circle
"With a little help from my friends"
---
Top of Mind
BPD asked some of the denizens of the Plex, "What is one word or phrase that's important to you this week?"
Answers: malaise–origins–buzzwords of the future–love–understand–slow–tripartite–overwhelm.
Try it at home: what would your word be? How about asking the people you see every week?
---
Global Regeneration CoLab
The Global Regeneration CoLab (GRC) foments peer-to-peer support for regeneration changemakers in many sectors around the world. Lots of small zoom discussions (synchronous) and an active slack instance (asynchronous) enable knowledge flow, partnering, problem solving, and motivational enhancement! Contact David Witzel (dwitzel@policycommons.org) if you'd like to join or learn more. Great folks, great organization!
---
Kernel, Wise Democracy, Transformation, The Platform
by Charles Blass
hi all
just finished checking out day 2 of the kernel showcase, great community with great abundance of talents and skills.
here is day 1 which was super inspiring
thread on day 2 projects
recently joined some of the kernel junto salon conversations around web3 funding as well as indigenous protocols, with some wonderful folks including Tapuya.
also in discussion with Tom Atlee and his Co-Intelligence Institute around a new framing of Wholeness and what Tom terms the Prime Directive of Wise Democracy.
further, in discussion with June Holley in connection with her massive work not only on NetworkWeaver.com community initiatives, conversations and media storming, but more intensively around Transformation … stay tuned for more weaving around this 🙂 (hint: involves collab with Vincent Arena et al)
primarily, heads-down on building the platform dao … as pre-launch community awareness raising we recently put our gitcoin grant together:
cheers! cb
---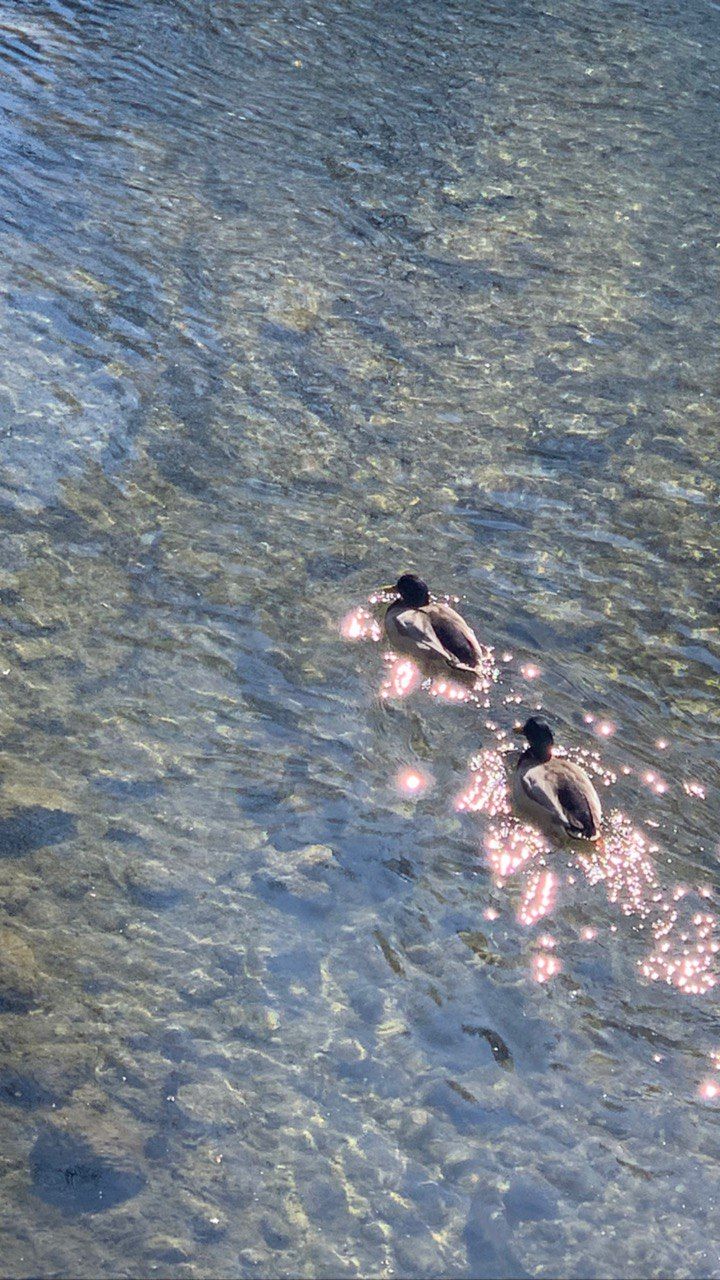 ---
The Power of Our Three Brains
by Ken Homer. First in an ongoing series about the Power of Three.
Robert Gilman is an astrophysicist who turned his attention away from the stars to focus on creating humane sustainable culture here on Earth. In a course I took from Robert, he mentioned that when he was doing post-doc work at Princeton, he discovered that if he wanted his ideas to be taken seriously, he had to be able to explain them to his colleagues using at least three different coordinate systems in order to demonstrate that he knew what he was talking about. The idea of knowing via three coordinate systems has stayed with me. Since everything exists in multiple dimensions, if we can only describe something from one perspective then our understanding of that thing is woefully inadequate. When we can discern how patterns that show up in several dimensions are all part of a larger whole we greatly improve our chances for adapting to a rapidly changing reality.
In Chinese medicine and martial arts there are three centers in the body known as dantiens. These are located in the gut (lower dantien), heart (middle dantien), and head (upper dantien), respectively. Interestingly, modern neuroscience now confirms that each of the three dantiens corresponds to one of the body's three brains. This gives us a terrific set of three modes of knowing, each with their own coordinate systems (vocabularies), from which to learn more about life. In m-Braining: Using Your Multiple Brains to Do Cool Stuff, authors Grant Soosalu and Marvin Oka posit the following functions as primary for each of our three brains:
Head Brain – Executive
Cognitive perception
Thinking
Making meaning
Heart Brain – Emotional
Emoting
Relational affect
Values
Gut Brain – Instinctive
Mobilization
Self-preservation
Core identity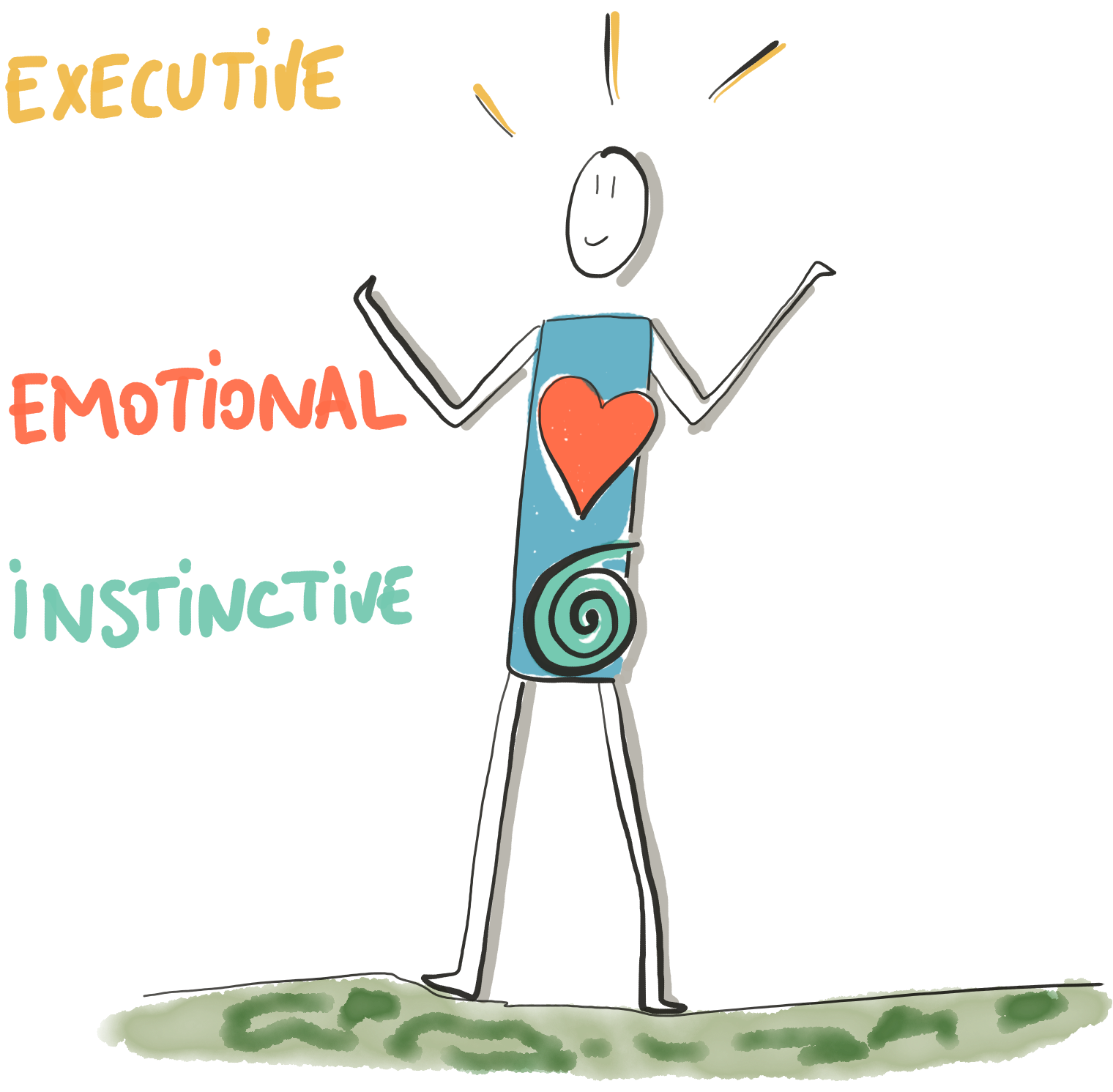 Contemporary industrialized cultures tend to over-emphasize the executive brain and dismiss the intelligences originating from the emotional and instinctive brains as irrational. This effectively cuts off two valuable ways of knowing by devaluing the relational field we create with other people and divorcing us from the intelligence of our bodies. Rather than get caught up in the rational vs. irrational binary, it's helpful to value rationality and non-rationality as both having utility for creating more effective ways of being in the world.
---
Cycles of Co-Creation, Scaling Collaboration, the Co-creative Cycle, Tapestry, Seriously App
by Wendy McLean
Video of my Emergent Conversation on the Cycles of Co-Creation - Much of the work we all do in the Liminal Web spaces is enabled by our ability to have emergent conversations.  I had the honor and joy this past week of being a part of one such wisdom-filled discussion, and with someone whom I've only recently met, Killu Sanborn.  About 20 minutes into our time together, we sensed that something insightful, beautiful and possibly also incredibly relevant was coming through.  So, then we agreed to share it.  Here's some of what was discussed:
Creating a collaborative vibe - the way a conversation feels - comes from the way we choose to be together, and speaking 'from' instead of speaking 'about'.
Creating contagious spaces through emerging leadership and emergent conversations.
The importance of recognizing cycles and establishing feedback loops to best meet and respond to the challenges we face.
How we might better recognize negative patterns and react to community needs, earlier in the cycle, before a crisis hits.
Asking new types of questions in evaluating projects, based on their ability to hold space for what's emerging, to magnify the potential for solving community concerns, or to create efficiencies anywhere along the co-creative cycle.
So here is the resulting hour-long video.  Killu and I are still absorbing the gifts of what was shared and how they might apply to the Meta Project (which was what connected us), but I'm open to discussing how this conversation applies to any and all of our OGM communities.  Please reach out to me with comments and ideas at wendy@everyoneswisdom.com.
Mapping out best practices for Creating Culture and successfully scaling Collaboration.  My work within the Meta Project, Trove, OGM, Flotilla and WINfinity have all echoed the need to better understand how we can create an environment which builds connections and allows for successful collaboration of decentralized communities at scale.  As a first pass at understanding what's possible, I created a Miro board with 6 diagrams and began to ask what seemed to me to be the most pressing questions.  If you're curious, want to provide feedback, want to contribute to the growing list of source materials repository or want to contribute to this work, you can view the Miro here and/or reach out to me at wendy@everyoneswisdom.com.
Emerging Wisdom: Mapping the Co-creative Cycle - as a result of my conversation with Killu noted above, I've embarked on a project to synthesize the many innovation and creativity cycles into one conceptual framework.  My intention is to bring greater awareness, resources and support for every stage of a projects' evolution, so that we can choose to speed up the process in order to better meet the challenges of our time.  If you have a favorite framework or model, I'd love to hear about it as part of my research.  Please reach out to me at wendy@everyoneswisdom.com.  Thank you!
Tapestry Update - Phase 1 of the Tapestry prototype was completed on schedule, and quickly highlighted the need for a redesign for Phase 2, which is now underway.  I'm planning to have that ready for a demo at Flotilla on Friday 4/15.  When I next have something to show the wider OGM community, I'll be sure to provide a link in the Plex!
Launch of Seriously App - Jonathan Sand, creator and developer - As a conceptual contributor to Seriously, I'm excited to announce that the latest version of the app was accepted and launched in the App Store.  It's a knowledge mapping tool somewhat similar to Jerry's Brain, but with some cool features for navigation, allowing for the collapsing and expanding branches and nodes of the network.  It also automatically summarizes sections of the network into a document for printing.  Thus, it serves as a writing tool, useful for composing essays, articles, books and provides lots of simple organizing power.  Jonathan's superpower is paying attention to the little details that make the user experience enjoyable.  Try it out!  Go to the App Store and search for 'seriously'.
---
"Dawn of Everything" Book Circle
A group of Plex folks are getting together to support each other in reading The Dawn of Everything, an important book by anthropologist David Graeber and archaeologist David Wengrow. They've had two organizational meetings, and are now scheduling their Chapter 1 calls for next week. See their website, Dawn of Everything Book Circle and visit the mattermost channel, Dawn of Everything.
---
"With a little help from my friends"
by Wendy Elford
I went for a job interview this week in the Australian National University School of Cybernetics and just wanted to reflect on the concept of tribe, and standing in your fear and accepting the gift.
The gift from the OGM tribe came from the "yes" I got in reply to a request to help me work through some of the options in preparation for a practical session part of the interview, "Teach Me Something". I ran the interview session yesterday successfully. It had been immensely improved by lots of little inputs and many small gifts from others.
Reflecting on process, what was useful was several independent, smaller conversations to advance the concept; a running conversation on mattermost; and then a single Zoom conversation with a group of around five people. I was in Australia, they were in the US. None of the timing was perfect for any one of us contributing; there were also other people who contributed in smaller conversations, who are not part of this OGM tribe. These non-OGMers could easily join and contribute to our larger conversations.
Here is a YouTube link to the PowerPoint presentation: a short introduction to the practical session. Definitely shakey but finished just in time–I  was virtually walking out the door at the time I did the voice over!
This preparation process, plus an exchange with a graphic designer, allowed me to quickly call on many ideas to put them into something that was appropriately short, respected people's time, and to be confident that we would all be better prepared and was still an artefact useful to others not present.
The learning point? Never underestimate using fear productively and consciously as a point of self-learning and to receive the gift of feedback and ideas from others. The gift will readily be given, you just need to be vulnerable to accept it and what emerges from being vulnerable.
Tag line – "With a little help from my friends" as John Lennon and Yoko Ono had a hand in the session as well–and funnily enough 'reimagine' is the tagline for the College of Engineering and Computer Science where the School of Cybernetics is based!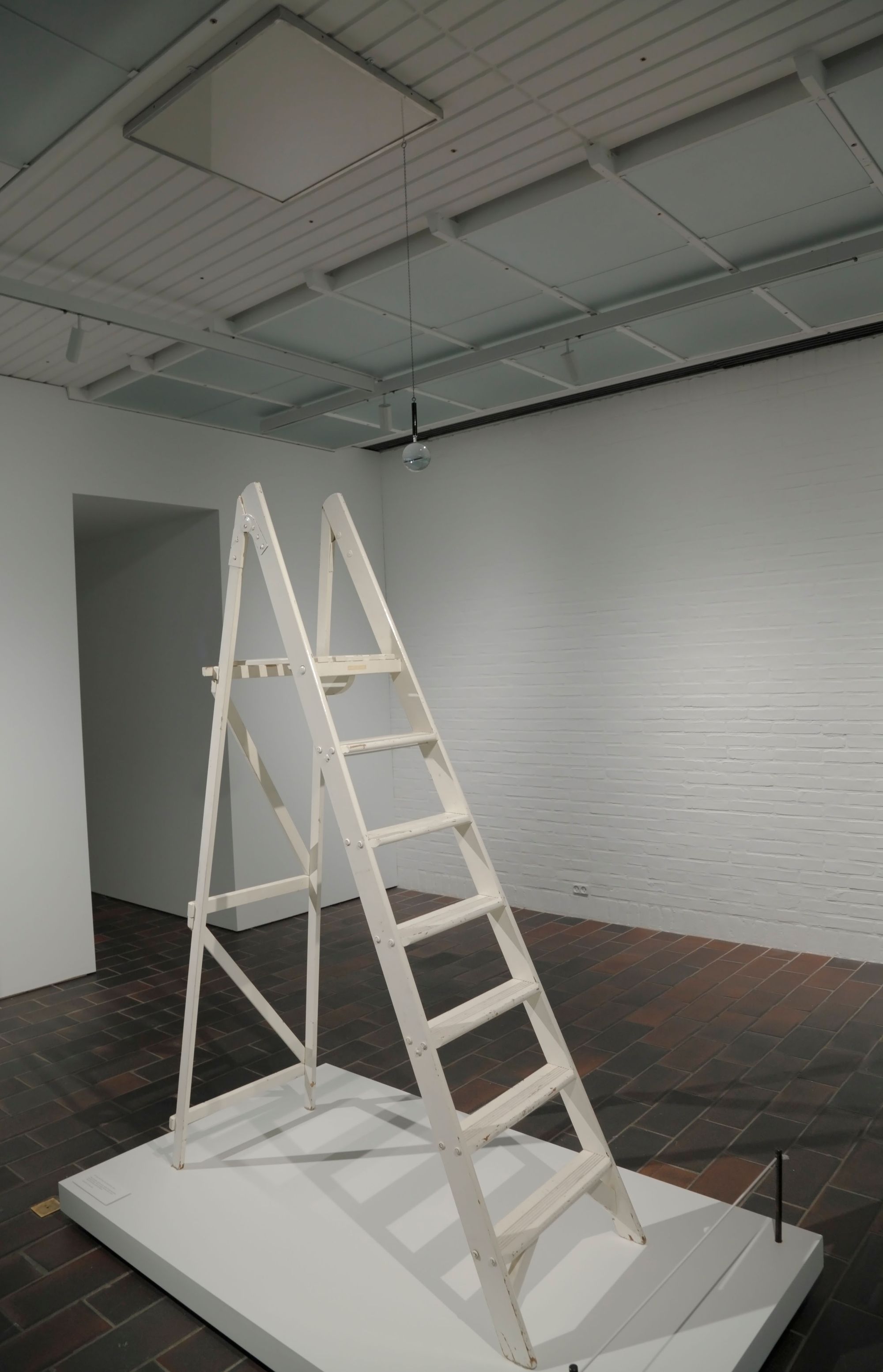 ---
---
Thank you for reading! Next edition will be published on 20 April 2022. Email Pete with suggested submissions by 19 April.
Thank you for your contributions this week! Charles Blass, Wendy Elford, Ken Homer, Wendy McLean, Dave Witzel. Shout out to Ross Mayfield for the term Ecosystem of Networks, which helped inspire this issue's header image.