Plex: 19 April 2023
Map of the Future, Complexity Adventures April Summit, Impact DAOs, Doughnut Economics, Marley, Robodebt Responsibility, The Aim of a System

The Biweekly Plex Dispatch is an inter-community newspaper published by Collective Sense Commons on first and third Wednesdays of each month. Price per issue: 1 USD, or your choice of amount (even zero).
In This Issue
---
Map of the Future
Complexity Adventures April Summit
Impact DAOs, Doughnut Economics
Marley
Robodebt Responsibility
The Aim of a System
---
---
Map of the Future
by David Bovill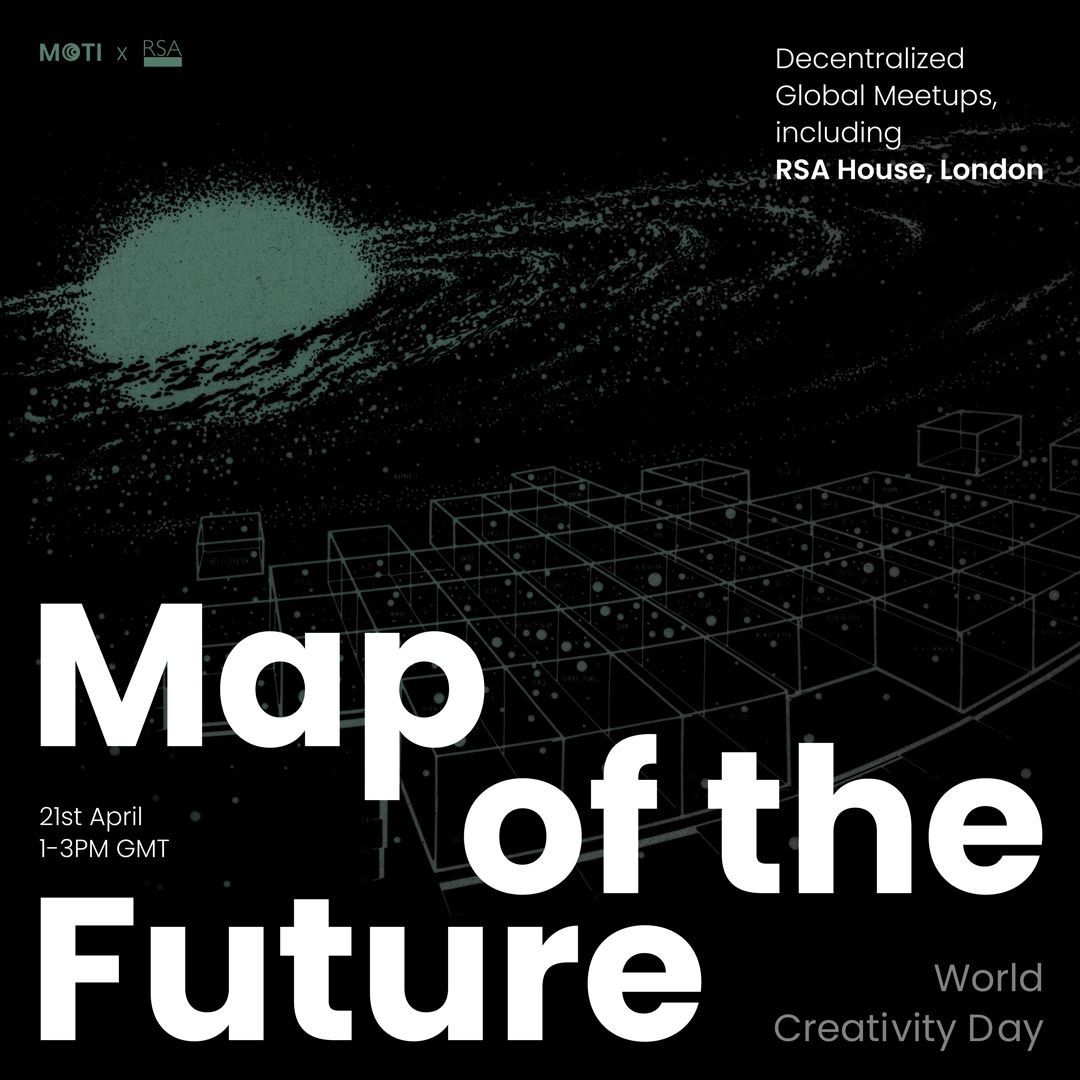 The vision of the project is that at this time in our history, we can, need and should work together to create a map - a map of the future.
This map is intended to be a functional map, that young people from all over the world, institutions, governments, and companies are able to use to identify interesting, valuable, and important risks, dangers and inspiring opportunities for our individual and collective future.
Humanity has been travelling for too long blind, it is time to give it a map.
The map is intended to have the following affordances. It should be:
Fun. Fun, to build, fun to create, fun to explore.
Beautiful. It will be an artwork at a grand scale.
Pragmatic. It will be engineered with a combination of solid, and novel technologies.
Useful. The map aims to be of genuine utility. We hope that companies, individuals, and organisations will be prepared to pay for its construction, maintenance and access to the insights it contains.
Living. The map will be constructed through a continual process of data collection, and will grow, evolve and change with the times.
Commons. The project will be shared and stewarded as a commons.
Join us on Zoom for our World Creativity Day event at the RSA in London and online:
Event Details: The Royal Society of the Arts (London) and online
Date: April 21, World Creativity Day
Day Time: 1-4PM GMT (2-5PM BST)
Join Link: https://us02web.zoom.us/meeting/register/tZ0ld-iqrD0tH9QoLIx0XO2_qtnA3eLMpgbD
---
---
Complexity Adventures April Summit
by Michael Lennon and Peter Kaminski
Complexity Adventures is a group of people who came together for regular meetings around the topic of complexity. A marvelous outcome of their work together are their biannual summits, which are 48-hour around-the-clock online unconference events. They also host monthly basecamps for self-organized groups of participants to join together in their meeting space to keep the conversations going.
The next summit is coming up soon, April 28-30. Free registration is here: https://bit.ly/CASummitApril2023
The event is for scientists, visual artists, musicians, people interested in people, philosophers, epistemologists, and more, who want to learn more about complexity, systems science, and science of networks, and who want to mix and mingle with other complexity-minded people. 1/3 of attendees are beginners who are new to complexity and the group, so don't let being new hold you back from attending.
The summit happens in Gather.town, an online meeting venue. The format is one hour of session, then one hour of flexible time for mingling, for 48 hours straight. Every time zone, attendees from 55 countries. Attend the sessions that are of interest to you.
Check out the living event program to see what is happening when.
---
---
Impact DAOs, Doughnut Economics
by Kevin Jones and Ken Homer
Kevin writes,
I'm exploring working with folks in the impact DAO community, using a doughnut economics lens on curating a convening of domestic, economic justice mixed with environmental justice-focused impact DAOs as one strand of our February conference in San Antonio.
On 14 April on the OGM mailing list, Ken Homer wrote,
Anyone who's been following Kevin Doyle Jones' work for a while has heard him talk about Doughnut Economics. If you aren't yet familiar with Kate Raworth's work, here's a 16 min TED Talk that's a brilliant intro:
20th C. economics assured us that if growth creates inequality, don't try to redistribute because more growth will even things up. If growth creates pollution, don't try to regulate, because more growth will clean things up. Except, it turns out, it doesn't and it won't. We need to create economies that tackle this overshoot and shortfall together, by design. We need economies that are regenerative and distributive, by design. ~Kate Raworth
---
---
Marley
by Jerry Michalski
reposted from the OGM Wiki: Marley
Although it has nothing to do with dogs or pets in general, this project is named Marley in honor of Stacey Druss's late shaggy dog of that name. We keep his memory going when we talk about this project.
Project Marley started with Pete's Original OGM Topics Proposal, which was a challenge to OGM to write an edited volume book. That's a book where each chapter is contributed by a different writer, but the chapters together work as a book.
Our first goal is to co-write a Quick First Book, getting the basic elements in place to go from Markdown files to a published ePub or Kindle File Format book. We need to pick that first book's topic and contents soon.
After that book is published, we will escalate things, convening book-writing teams and exploring the book ideas' intersections, so the books might share "nuggets" of content.
We refer to "books" with a bit of tongue in cheek, because conventional books are inert and obsolete. So:
Books are known cultural objects: shiny, attractive media that anyone can understand.
Books serve as an inviting entry point to a vast array of captivating online resources, such as:
Live discussions (both real-time and over time)
Further resources, should you want to act on a Nugget's advice
Constantly updated content that reflects our growing knowledge and understanding
To co-write several intersecting books, we will need to develop Roles, a Marley Work Flow, a Design Bible and a Marley FAQ to explain outstanding questions.
---
---
Robodebt Responsibility
by Chris Felstead
Hi Peter,
I have noted with interest your and your contributor's comments about AI. It looks like we agree about the hype and potential negative impacts.
I am worried about what is happening now!
I am researching an Australian case study called "Robodebt", which was the automated debt collection from social welfare recipients (without proof), accusing them of having received overpayments of benefits. It went on for six years and cost the then government 1.6 Billion Australian dollars in reparations, and later our High Court declared the whole program illegal.
Fortunately, we have had a Commission of Inquiry which has published the victims' testimony for public access. It makes for harrowing reading and begs the question, how can we have so many ethical frameworks that still fail the marginalised? What happened to software integrity and beta testing?
The commission has concentrated on the bureaucrats who allowed the illegality to occur. I am more interested in the victims and whether IT professionals could have and do have a role in their protection.
I would appreciate your perspective and that of your readers.
---
---
The Aim of a System
by Klaus Mager
During my time at Disney I had the opportunity to go to a 4-day Deming workshop, and one of the things that impressed me was his discussion on the aim, or intention of the system:
Many systems evolve without their "designers" consciously thinking about an aim, but you can often reverse-engineer the aim of a system by studying its makeup and the outcomes it's producing.
In nature we see many examples of systems, and the aim there seems to be sustainability. Nature tends to balance itself so that only the necessary parts in the system remain, and unnecessary parts die out.
One part of a system can become selfish, no longer concerned with the aim of the overall system. When a part of a system becomes selfish, it weakens the overall system, which ultimately harms all of the parts. When a part of a system makes a sacrifice that helps the overall system, all of the parts of the system are rewarded because the whole system thrives.
A few years back Gene Bellinger organized a workshop with a team of systems designers and me as a subject matter expert that lasted the better part of a year on what constitutes a 'Community Food System'. In the end we determined that this system does exactly what it was designed to do from a mechanical or engineering perspective which determined the relationships needed to move food from farm to table. The questions we had started with, seeking answers for changing some of the outcomes related to environmental and human health issues could not be answered by changing the structure of the system.
We determined at that point that what mattered was the System's 'Value System'.
It created this insight:
Under the system's current configuration, the system's paradigm sets the direction of economic and political transactional relationships downstream. This paradigm influences the value system throughout the economy and the entire Rural Community Food System. This establishes or implements the patterns, systemic structures and mental models for the system which sustains the system and defines the system's purpose and resultant values.

Within the Changing Mental Models map, the System's Value System is leveraged through Public Awareness in determining how the system meets Societal Needs. System's Values must be based on ecological health, regenerative organic principles, social justice issues.
Using Theory U, Spiral Dynamics, Donella Meadows, we ended with this recommendation:
New Directions? Recommendation to create one level upstream, linking the current box 'System's Value System' to a box titled 'Macro System'. Which would then connect the process of various influencers merging into aligned structures.

The system is fine, it does what it needs to do in the way it is directed. What needs to change are the intentions of the systems to shift into regenerative and socially just outcomes.
---
---
Thank you for reading! The next edition will be published on 3 May 2023. Email Pete with suggested submissions.
Grateful appreciation and thanks to Charles Blass, David Bovill, Chris Felstead, Ken Homer, Kevin Jones, Michael Lennon, Klaus Mager, and Jerry Michalski  for their contributions to this issue.