🟩🟨🟩⬛🟨!
News and views around the Plex, for 16 February 2022.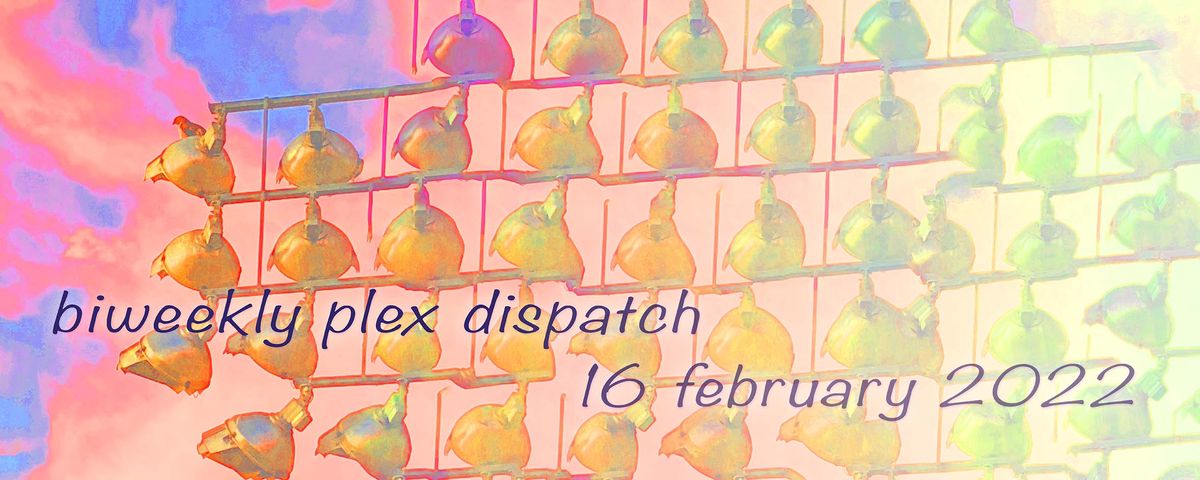 The Biweekly Plex Dispatch is an inter-community newspaper published by Collective Sense Commons on first and third Wednesdays of each month. Price per issue: 1 USD, or your choice of amount (even zero).
Mapping for Emergence
Check out Mapping for Emergence (What Is Emerging; Theo Cox, Rufus Pollock, Anna Katharina Schaffner, 2021-08-12). This will be interesting to those who have been engaged with mapping initiatives.
Smart Streets, Catalytic Venture Philanthropy
Kevin Jones et al., are integrating an equity crowd fund aggregator, Smart Streets, into a local community with the Wefunder, etc. deals being local. We are adding Credibles; pre-purchase that has worked to help launch restaurants to the marketplace we are creating in Asheville.
We are integrating it with a donor advised fund (DAF) as a public utility for the common good, built by Impact Assets, a $2.7b DAF platform spun out of Calvert, founded by our long time business partner in SOCAP and the Good Capital impact fund.
We are deploying catalytic venture philanthropy on the DAF platform, used to make sole proprietors into job creators, and eventually ready for loans.
We are doing an invite-only conference of 150 people in eight design labs doing similar innovations that create new economic and sometimes political power by and for the disenfranchised. It will be in May in Indianapolis. COVID permitting.
Society 2045 - Positive Creative Visions
What is your positive vision for the world in 2045?
At Society 2045 we're interested in positive creative visions of how the world might look in 2045. As futurist Bob Johansen reminds us, it's actually easier to look out ten or 20 years than one or two years because we can clear all the clutter off the horizon and focus on the bigger trends to get a sense of where we want to be. We're not seeking prognostications, rather we're interested in what is guiding your work, what movements you're part of that are pursuing similar aims and what you are seeing that gives you hope and strengthens your conviction that, despite the daily barrage of bad news, the world is waking up and moving in the right direction.
If that sounds like the kind of conversation you'd like to have, ping Ken Homer - kenhomer@sonic.net - to arrange a date for an interview. We meet on Fridays at 10AM Pacific time for one hour - the interview portion is about 45 mins. The format is informal, the people on the call, friendly and curious, and the conversations are always lively. We'd love to talk with you. Not sure if it's right for you? Take a look at our website and youtube channel to get a flavor for what we're up to and who we're talking with: https://www.society2045.org
Living Between Worlds
Gil's "Living Between Worlds" webinar series resumes Wednesday, February 16th 12-1:30pm PT (and every third Wednesday thereafter). Catch the next one on March 16th.
New worlds don't just happen. We speak them into being…
Please join the Living Between Worlds community as we begin our third year of monthly conversations exploring the challenges of navigating the world of messes we've inherited and built—from climate and Covid to biodiversity and fascism to identity and pluralism—with grace, dignity, and power.
Register at the Living Between Worlds meeting registration page.
You Too Can Pick Jerry's Brain
In parallel with OGM and StoryThreaders, Jerry is hanging out a shingle in cyberspace to focus his two brains on others' ideas and questions, for a fee. The site is PickJerrysBrain.com, and all comments are welcome.
You can see what these sessions are like by watching the pilot session with Wendy McLean, as well as Jerry's afterthoughts video. A similar set is coming shortly from a PJB session recorded February 15th with Scott Moehring. If you know anyone who could use such a session, please share the link with them.
Massive Wiki
In our small deployment, peer-to-peer synchronization via Syncthing is still working great. Page News (recent changes) work has been going slower than expected because of various underlying technical frictions. We have high hopes for a great new idea, pier2pier, to deploy various MW utilities via a single Docker container, more news on that to come.
Speaking of knowledge work, the places and the praxis, Bill offers a haiku.
I found my old notes.
But the topics didn't match
My ontologies.
Black History Month
In honor of Black History Month, a couple of links:
Your intrepid editor used ARCHIE back in the day; and worked on an early home video game console that was based on cartridges, the Intellivision. I am thankful for both Emtage's and Lawson's innovations!
About the Biweekly Plex Dispatch
The "Plex" is one name for the loosely federated set of inter-communities to which we belong.
We're glad to see you here, and we hope that this newspaper will be a helpful community service. Please feel free to submit suggestions for stories for the next edition here: Inbox for Biweekly Plex Dispatch 2022-03-02.
– Pete, your humble editor
Special Thanks
Thank you to Bill Anderson, Charles Blass, Gil Friend, Jerry Michalski, Ken Homer, Kevin Jones, Stacey Druss, for your help with this issue of BPD!
– and we're out –