Biweekly Plex Dispatch 3
News and views around the Plex, 2 March 2022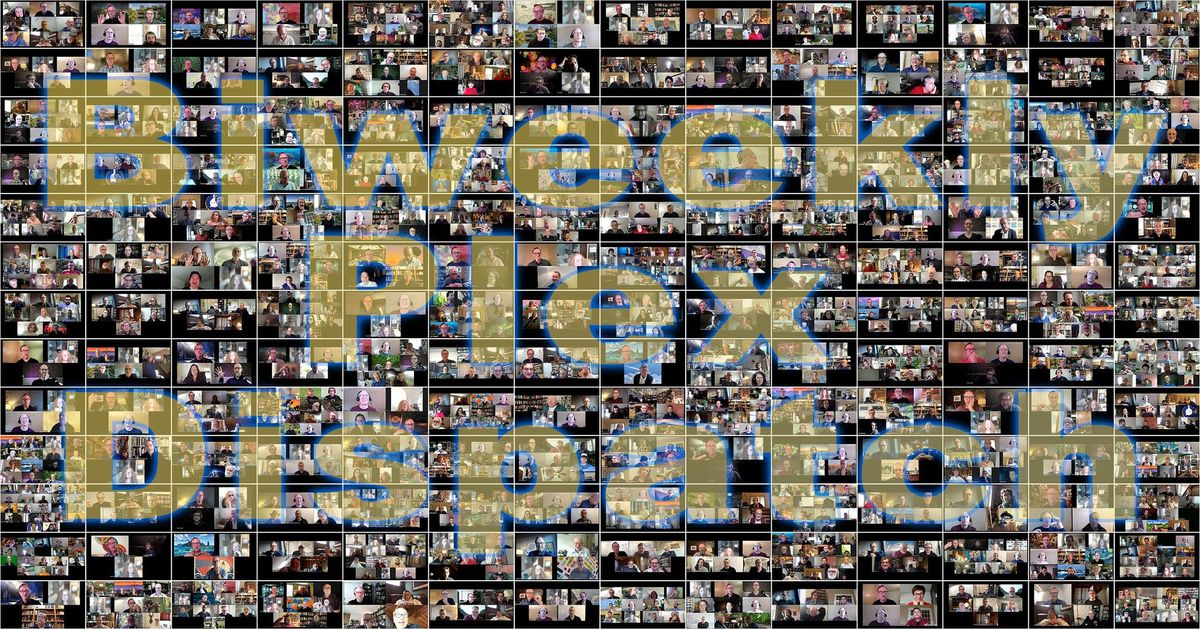 The Biweekly Plex Dispatch is an inter-community newspaper published by Collective Sense Commons on first and third Wednesdays of each month. Price per issue: 1 USD, or your choice of amount (even zero).
Upgrading CSC Agora on Mattermost
The instance of Mattermost where CSC Agora lives has needed an upgrade for a while, and Peter Kaminski has finally gotten the stars to align to make it happen soon, perhaps even this weekend, 5-6 March.
We will be upgrading from an older 5.29.0 version to the newest 6.4 version, which among other things, should fix the annoying "Server upgrade required" popup on mobile devices. A new deployment method should also make future upgrades much easier and more frequent, with less disruption.
Due to database changes between version 5.x to version 6.x,  a few things will happen:
Everybody will need a password reset. There will be a one-time requirement to use the "I forgot my password" link to reset your password to sign into the new version. It's okay to use the same password as the previous version if desired.
All your channels and DMs will be marked unread; just select a channel to mark it read again.
Previously-posted messages with attachments will lose the attachments. Email Pete to access any critical attachments from the archive after the upgrade.
Stay tuned to "Town Square" for more information as it becomes available. You'll also receive an email with information before the upgrade. Join the [csc] Meta channel for discussion about the upgrade.
Upcoming Plex Events from Trove
Vincent Arena did a neat thing with Trove, and developed a way to export a list of events that Trove knows about. This lets us paste the list into BPD for your convenient reference:
Stay tuned for updates to this functionality directly on Trove itself. If you're an event organizer and you find your event is not listed here, this is your cue to get your info into Trove. Contact Vincent.
Sensemaking Emergent Events: Ukraine
A few of us have been running small experiments in collecting, collating – and sometimes even making a little sense – of big, rapidly evolving events. We call it "Sensemaking Emergent Events" (SEE).
We've started an CSC Agora (Mattermost) channel to collect information about the Ukraine crisis: [see] Ukraine. You're welcome to join to read or post information about the 2022 Russian invasion of Ukraine and any other geopolitical issues regarding Ukraine.
Digital Infrastructure for Collective Impact
Madelynn Martiniere and Tibet Sprague will be speaking at a panel Madelynn organized at the upcoming SXSW, called Digital Infrastructure for Collective Impact, 16 March 2022. Tibet says, "If you are going to be there in Austin come to the panel and let's connect! We also may organize a small gathering of folks."
The early decades of the 21st century are characterised by global social, economic, and ecological crises. Yet the recent proliferation of tech-for-good initiatives often exacerbate the challenges they seek to address, with business models frequently relying upon locking data in proprietary silos, and robbing participants of their privacy and agency as a result. So how do we design the platforms of the future without replicating the pitfalls of the past?

Join this critical conversation with leaders co-creating the next generation of global digital infrastructure as we address key design considerations including interoperability, data sovereignty, and decentralisation, and opportunities for collaboration, cooperation, and coordination across a growing ecosystem of aligned organisations.
Living Between Worlds
New worlds don't just happen. We speak them into being…
Gil Friend hosts the Living Between Worlds webinar on every third Wednesday. Join the community for monthly conversations exploring the challenges of navigating the world of messes we've inherited and built—from climate and Covid to biodiversity and fascism to identity and pluralism—with grace, dignity, and power.
The next Living Between Worlds webinar is on March 16th at 12-1:30pm PT.
Register at the Living Between Worlds meeting registration page.
The Tapestry Project
The goal has been set for a prototype by March 11th and we're on track so far! Wendy McLean has been working with Vincent Arena to develop everything in Bubble.io so it will be integrated with Trove.  Once ready, the prototype will be shared with any community who would like to try it out.  OGM and the rest of the Plex is at the top of the list, of course.  The Tapestry View will allow communities to see people's contributions through their expertise, interests, projects, organizations, groups, resources, and events.  For core info on this project, check out The Tapestry Project on the Everyone's Wisdom website.
To inform development of the Tapestry, Wendy has been working with these images.  A new version of the 3D image was rendered this week.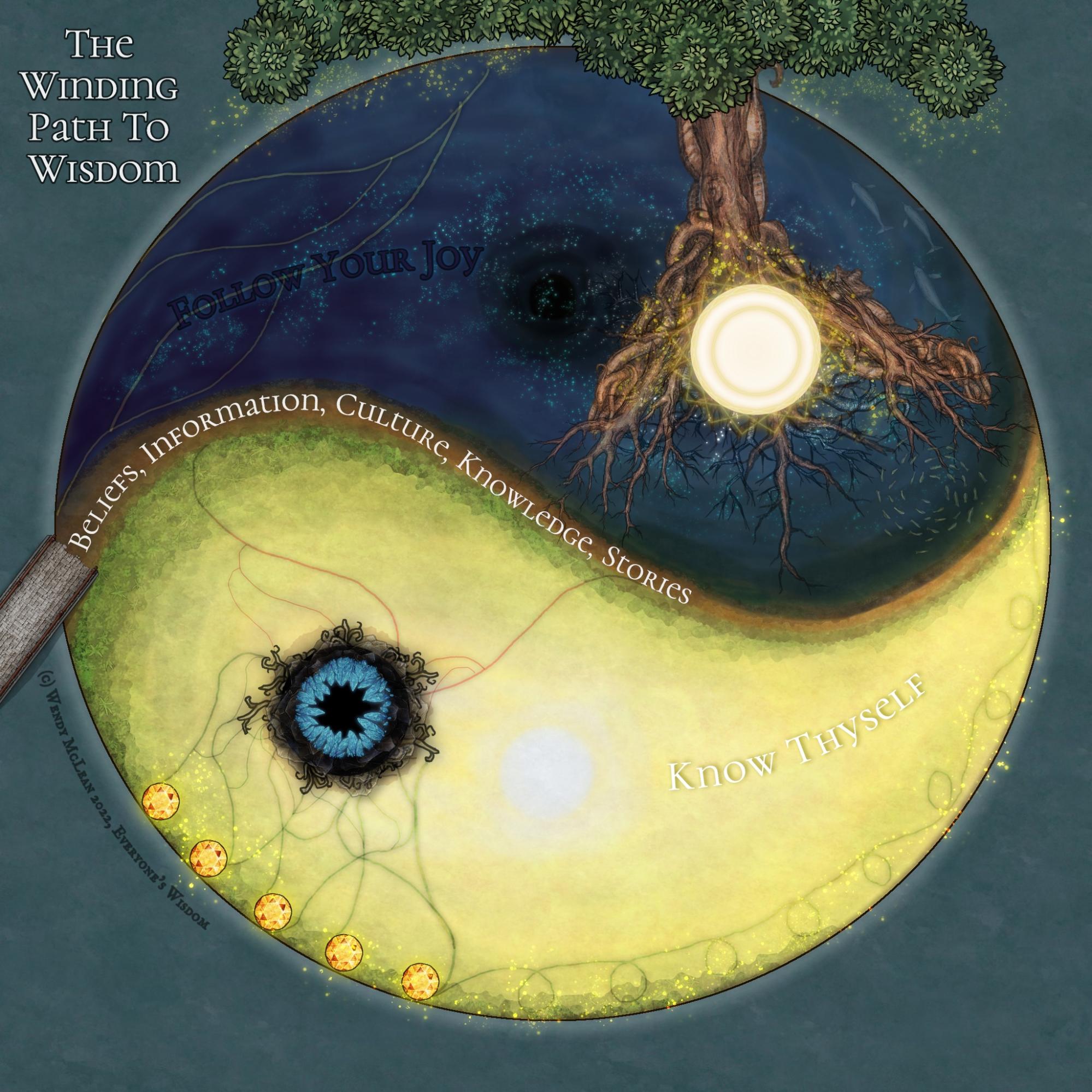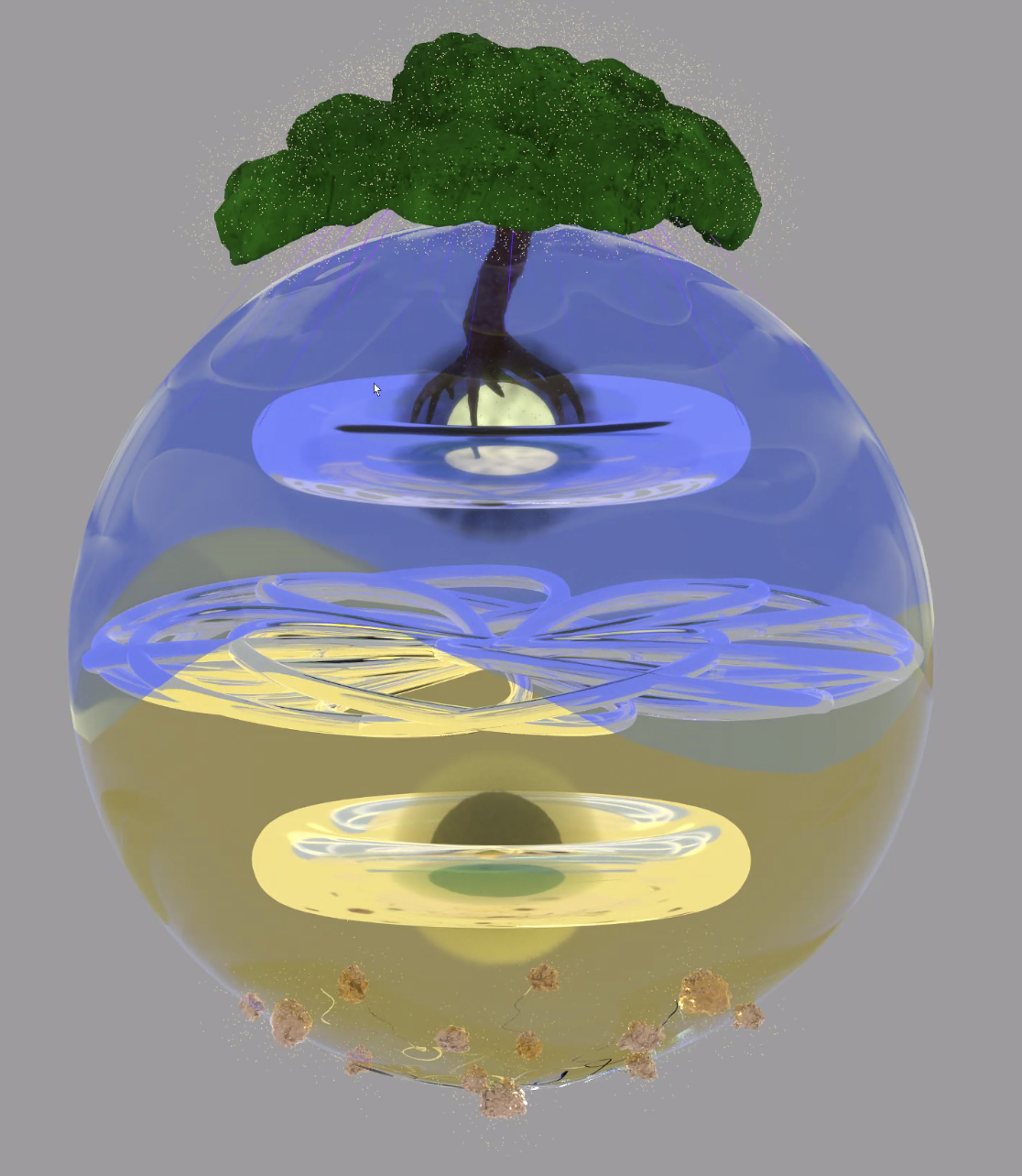 Everyone's Wisdom - Other Weavings
Wendy Mclean has been working closely with Trae Ashlie-Garen and the Core WINfinity team over the past few months to further their efforts in providing space where leaders can practice the skills required for emergence and collaboration.  They now have a new site at WINfinityframework.com and are working to expand and get funding to meet the growing demand for their array of offerings.
Wendy has also been weaving some summaries for The Meta Project and working with Vincent on his ETHIC / Societal Sectors category sets.  Through these interactions, she is seeing ever more clearly and with a greater sense of urgency how the Tapestry can assist communities - WINfinity & Meta & OGM & Trove - in taking the next steps towards collaborative action.
Lionsberg / The Meta Project
The social dynamics team has had two meetings so far, and the tech team has been making progress on the initial tech platform.
Look for a first general meeting during the week of 14 March 2022 or 21 March 2022. Ping J@Lionsberg.org or follow @JNicholasOne to stay in touch.
5 Minute University
A while back Jerry Michalski introduced the idea of the 5 Minute University (#5minU). (And thank you too, Father Guido Sarducci.)

The basic idea is that you take less than five minutes to share some juicy nugget of information or knowledge from a domain where you have expertise. Hopefully your topic is something that others will find useful. To kick us off, Ken Homer is serving up some questions to consider when building stakeholder alliances.
Appreciative Inquiry and Stakeholder Alliances
by Ken Homer for BPD
I am an appreciative inquiry-driven kind of guy. One of my mottos is "People grow in the direction of the questions they ask." Recently, I was part of a facilitation team delivering a program called Leading Through Influence, to the senior leadership of a $15 billion company. We had cohorts attending from New York, Paris, Milan, Singapore, Hong Kong, Shanghai, Seoul, and Tokyo.
One section contained a series of questions for building stakeholder alliances, however, the questions were deficit-based with no focus on strengths. I proposed an appreciative alternative which the author of the program graciously and enthusiastically embraced. Below are my questions:
Questions for Building Stakeholder Alliances
What is this person's (formal and informal) relationship to me?
What's the best way for us to establish a solid partnership?
What strengths can we build on?
How can I enlist them as an ally for my business project?
What might I be doing that's working against our partnership?
What obstacles need overcoming and what's my strategy for that?
What agreements do we have in place to handle conflict when it arises?
What did we explicitly agree to and set forth as clear goals and expectations?
What practices have we agreed to in order to bring out the best in each other?
How is our communication? Do we regularly review and assess what we're learning?
If I am experiencing resistance, where is it coming from and how can I best address it?
What else can be done to strengthen our partnership?
It may require considerable time to answer these in depth, but doing so greatly improves the likelihood of success for all concerned.
Embracing
by Stewart Levine, reproduced here with kind permission
Warm syrup flows within
Quiet mind no chattering chagrin
Silence black empty space
No concern running this race
Serene presence calming pure
Heart body mind aligned to ensure
Essence embraces those you hold
Daily giving never old
Uncover what's inside
Navigate your personal tide
Thoughtful sharing never whim
Treasured wisdom from within
Make sure family has peaceful sleep
Drying teardrops before they weep
Longing only to give take care
Helping others get to where
Peace from knowing who you are
Where you fit how you star
Integrity to the bone
In a crowd silence of alone
Perch you alight quiet perspective
Not from any outer directive
Sourcing wisdom from your soul
Agenda sometimes takes a toll
About the "182 Calls" Header Image
by Peter Kaminski for BPD
You can download a larger 4760 × 2496 image without the "Biweekly Plex Dispatch" wording here:
I wanted to have some image of "The Plex" for the BPD header image this week, and decided to create a composite of many Zoom call recording thumbnails. I like the finished image – it makes me happy to look at all the very familiar and less familiar faces from all our calls.
Jerry Michalski has done a great job of posting recordings of Zoom calls for OGM (and related communities such as IJB and REX), so I went to his channel to gather thumbnails.
My work process:
Look around for an app or website to make collage / montage / contact sheet images.
Settle on montage, one of the tools in the ImageMagick suite.
Install ImageMagick on my Mac using Homebrew.
Navigate to and scroll down Jerry's channel page to preload lots of thumbnails into the browser page.
Save the page to my computer.
Sort through the thumbnail JPEGs in the saved directory, pick out those with three people or more; discard the rest.
Fiddle with montage, and hit on 182 (14 x 13) as a good number of thumbnails, so there aren't any blank spots in the composite. This required discarding nine thumbnails; I chose them at random.
Use Photoshop to add the BPD text.
---
Thanks for reading! Next edition will be published on 16 March 2022. Email Pete with suggested submissions by 15 March.
Thank you for your contributions this week! Wendy McLean, Vincent Arena, Tibet Sprague, Stewart Levine, Stacey Druss, Ken Homer, Jordan Sukut, Gil Friend, Bill Anderson.