Plex News for 18 May 2022
News and views around the Plex, 18 May 2022

The Biweekly Plex Dispatch is an inter-community newspaper published by Collective Sense Commons on first and third Wednesdays of each month. Price per issue: 1 USD, or your choice of amount (even zero).
---
In This Issue
Peeragogy in Action: Causal Layered Analysis
A Journey in Science and Art
Exciting Times for Voice of Humanity
Conversations about Midcentury
Next Cycle for The Meta Project
The Power of Three: Emotional Intelligence in Conversations
Wildflowers
---
Peeragogy in Action: Causal Layered Analysis
by Joe Corneli
Peeragogy in Action #13 (YouTube) features a half-hour interview with Sohail Inayatullah, the creator of Causal Layered Analysis, and Ivana Milojević, who wrote the first PhD thesis on CLA 20 years ago. Ivana is also the author of "The Futures of Education: Pedagogies for an Emergent World."
Causal Layered Analysis is used in futuring exercises. Host Charlie Danoff interviewed our guest experts on the future of CLA, among other topics.
---
---
A Journey in Science and Art
by Judith Benham
Vice Chair, Board of Directors, White Bear Center for the Arts
Fellow, American Chemical Society
Co-President, ARCS Foundation, Minnesota Chapter
I share with many scientists a strong passion for music and arts in addition to science. When I went to the University of Rochester as an undergrad it was as much to study flute at the Eastman School of Music, as for the science, as a Bausch & Lomb Scholar, majoring in Chemistry.
I began chalk pastel portraiture of the children of a summer boss, and continued chalk portraiture during my undergrad and PhD. During my professional life, as an industrial chemist (polymer chemistry), then management, followed by global technology leadership with labs across the globe, art took a backseat to work, family, and science leadership in the American Chemical Society (ACS), Division of Polymer Chemistry.
After retirement, my science shifted to National Committee leadership, ACS Board of Directors, and Chair of the Board of Directors, while my art shifted to water colors, which I continue to enjoy. Samples of my art are below.
(View on the web so you can click on each image to enlarge.)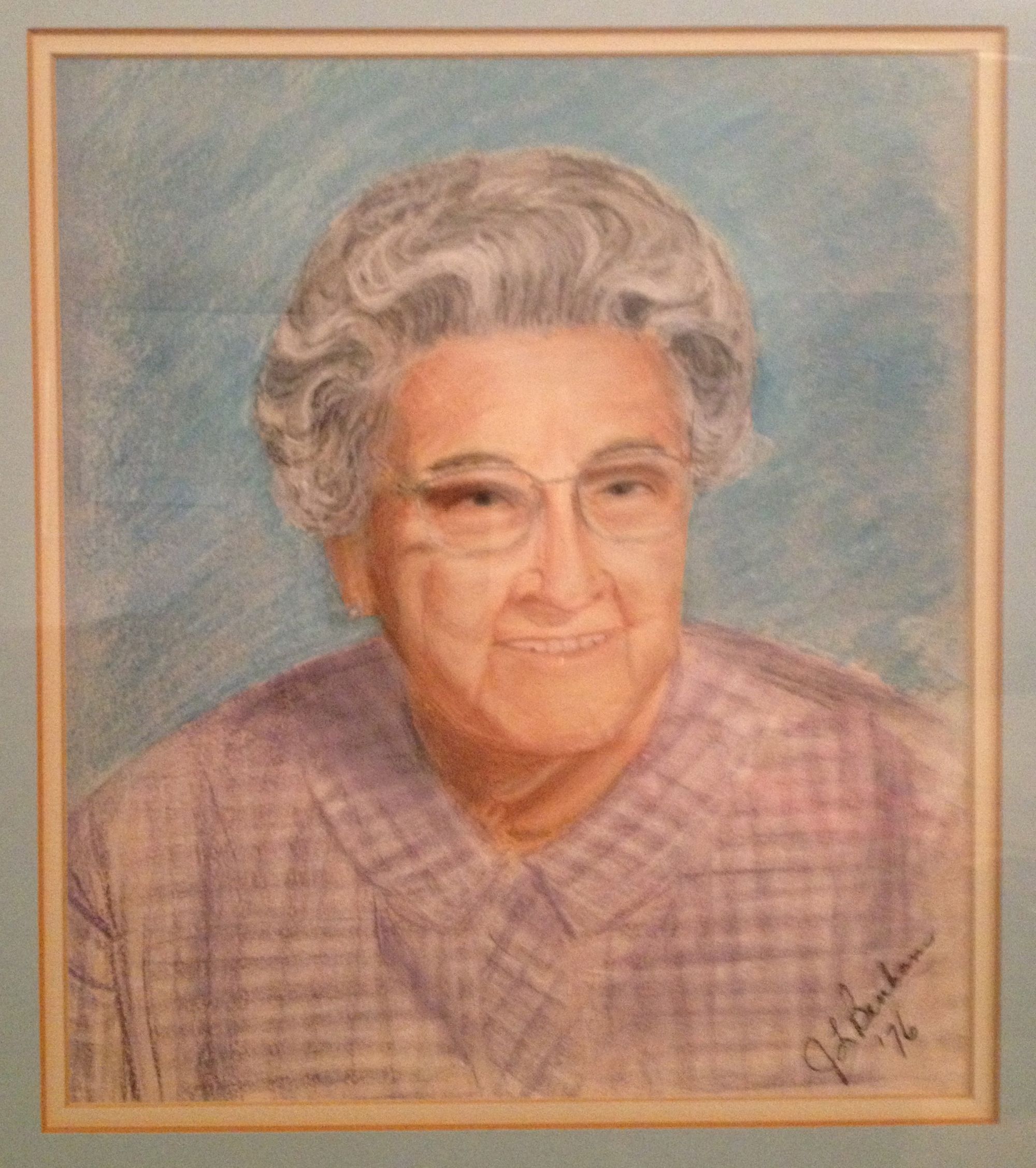 Early Pastel - "Grandmother"
Watercolor - "Superior Rocks" (Lake Superior - MN)
Watercolor - "Winter Trees in Minnesota"
Later Pastel - "Heart of a Poppy"
Encaustic - "Poppies" (Ancient Greek technique - molten wax w/pigment)
---
Exciting Times for Voice of Humanity
by Grace Rachmany
The Voice of Humanity is moving in all kinds of new directions! The Sufficiency Currency experiment did not take place– we weren't able to generate enough physical participants to justify the event. The learnings were:
Get a team in place.
Have a local project manager.
Simplify the game in terms of the administration required in each round.
Adjust the game for the communities that the founders belong to.
The two spawned activities are:
Emergence of people who want to participate in a few more game online simulations to see how we can simplify it. Spirit will be participating/organizing along with me to figure out how we can do that. We have good feedback from the first players and are happy to have anyone participate.
Collaboration with two cofounders and the launch of the Priceless experimentation project. I realized what we are really doing is a lot of experiments rather than a startup with pivots. Priceless is looking at bringing together programmers (for example displaced Ukrainians with software development background) to live in ecological-living-working centers to develop Web3/GameB software that will allow us to do some experiments in different communities. We are already talking to someone who wants to sponsor a location in Slovenia, the ecovillage in Navarra has space for 5-10 adults if we can find some EU funding, and we are looking at creating an operational plan for the Kenyan "sister" location already. We're also looking at being featured in a 100-startups project showcase in the autumn. This evolution of the project has gained momentum very rapidly.
Exciting times for Voice of Humanity!
---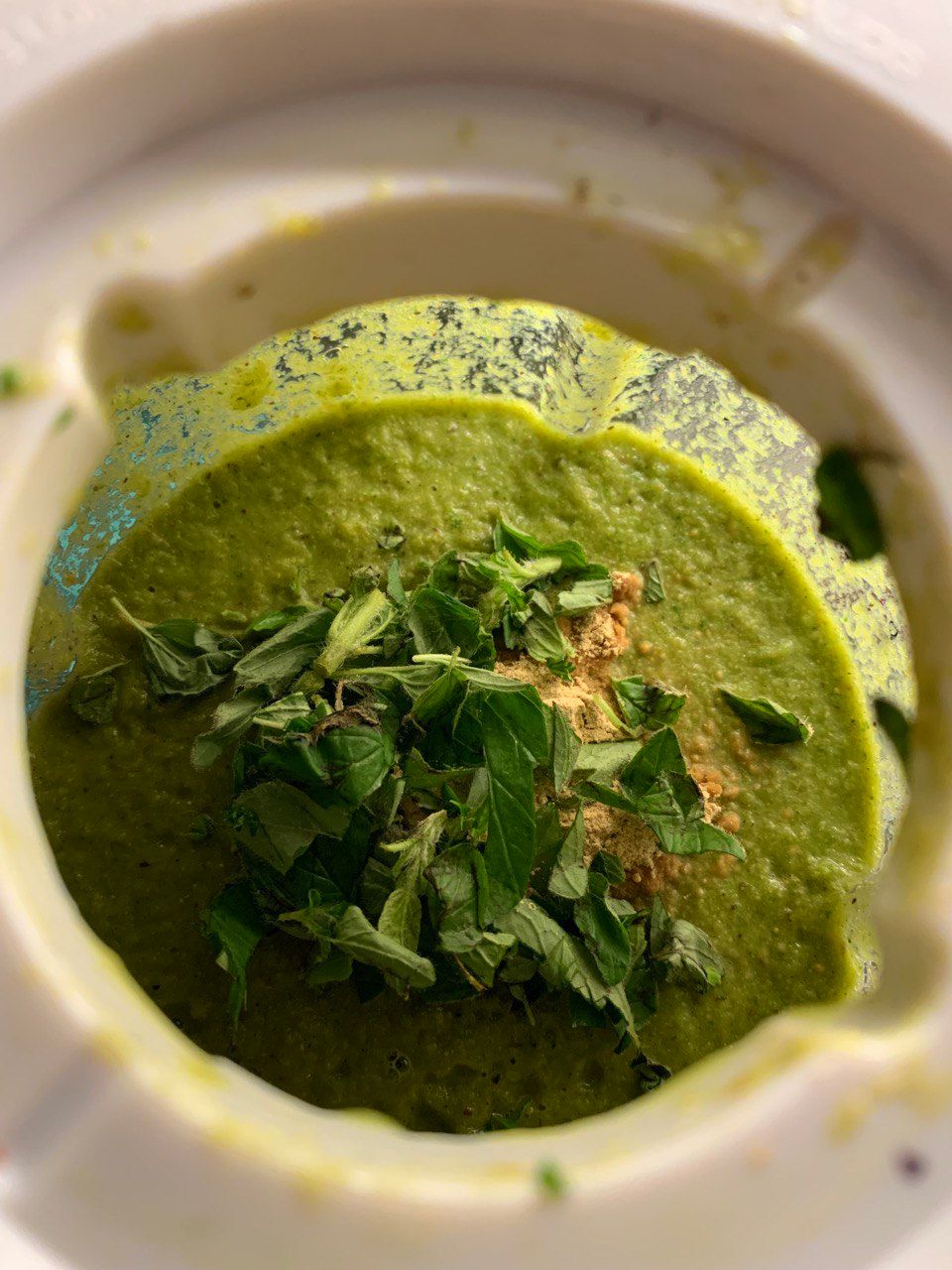 "energy soup (an ann wigmore recipe)"
"karma"
"swissness 2"
---
Conversations about Midcentury
by Hank Kune
What are the futures people really want – and are committed to work towards? These days there is a lot of talk about this, and about how can we bring the diverse perspectives together – and especially the ideas of the 'unheard third' of society – our elders (so often consigned to mere grandparenting after retiring from professional work) and young people (rarely paid attention to by society's decision-makers, at least until they reach the age to vote).
During the first week of June, Time's Arrow & Future Voices will initiate a multigenerational dialogue about climate change, the environment, and what people want the world to be like at Midcentury.
During the week of activities around Stockholm+50 and World Environment Day (2nd – 5th June) several dinners and dedicated sessions on these themes will be held, and the results of these sessions – combined with the output of the Future Voices program and other related workshops – will be presented on World Environment Day, June 5th.
Our intention is to use this 'moment' to launch a series of intergenerational dialogues during the coming year, leading up an apotheosis (of sorts) on World Environmental Day in June 2023: "Conversations about Midcentury" and the world we want to live in.
These activities will help people structure their thinking – and feelings – and visualize possibilities for different sustainable futures. Using the Positive Cartography methodology – combining interactive media and visual thinking – participants will experience and explain their own preferred futures.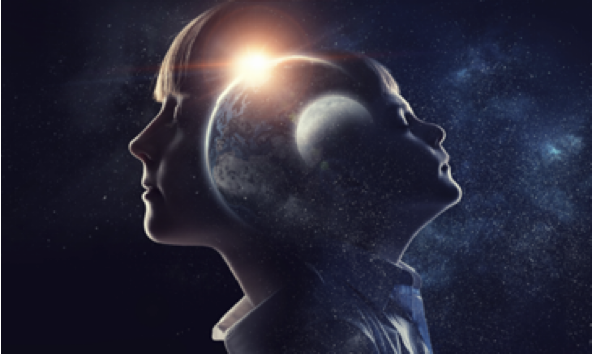 The intention is to help people – young and old – become aware of the possibilities for and power of working together. Become aware of what they really want, and commit to work towards achieving it.
Conversations about Midcentury is about people in different countries and continents thinking and working together. It's about children dreaming the world and elders dreaming the future, and empowering young and old to realize their dreams.
Ideally, an orchestrated set of activities (both national and international), integrating an immersive scenario-experience, (digital) storytelling, and Positive Cartography.
Conversations will explore the perspectives of old and young on sustainable future societies and cities, addressing climate change, redefining elderhood and eliminating ageism, listening to people's voices & choices, and the development of intergenerational solidarity as called for in UN Secretary-General Guterres' 2021 report Our Common Agenda (un.org).
Please support us with your ideas, critical thinking, passion and expertise.
Core team Time's Arrow: Leif Edvinsson, Hank Kune, Jenny Quillien, Anders Varger
---
---
Next Cycle for The Meta Project
by Jordan Sukut
Hello friends,
The Meta Project is advancing. On May 18th, we had our final call of the opening 6 week cycle. It was a time to reflect on the value that was created during the last several weeks, and reflect on what we can do better, to create even more value over the next cycle.
Over the coming weeks we will be moving from laying foundations and orienting into doing the work of getting more concrete with the structural aspects of mapping, federating, and surfacing and meeting needs and solving problems as we prepare for a long-term engagement.
Along the way, we are planning to select a couple measurable projects to test our 'muscles' as an emerging community and see what we might be able to do together… Each 6 week cycle we intend to grow stronger and more capable as we work together to meet the needs and solve the problems inherent in this moment in history.
For whatever its worth, a few more of us now think that this approach may represent the best chance we have for 1) solving the total set of grand challenges 2) accomplishing the total set of global goals, and 3) forging the best and most flourishing possible future.
If you are interested in being a part of upcoming 6 week cycle, please reach out to Jordan, Pete, or Wendy McLean, or find us on the [Lionsberg] Town Square channel on CSC Mattermost.
With Love, In Community,
~ The Meta Project
---
---
The Power of Three: Emotional Intelligence in Conversations
by Ken Homer. An ongoing series about the Power of Three.
In the last post we looked at a conversational response matrix from the conceptual perspective of the head brain. Now let's switch to the heart brain and the coordinate system of emotions.
Many people will look at Professor Gable's matrix and conclude that they operate out of the active constructive mode more often than not. However, we're all subjects of unconscious habits and patterns in our communications. When we are unconscious about something, it means we are unaware of some aspect of our behavior even though it is clear for others to see. It's hard to see our own behavior and we're always doing things we're unaware of – things other people notice but rarely tell us for a variety of reasons.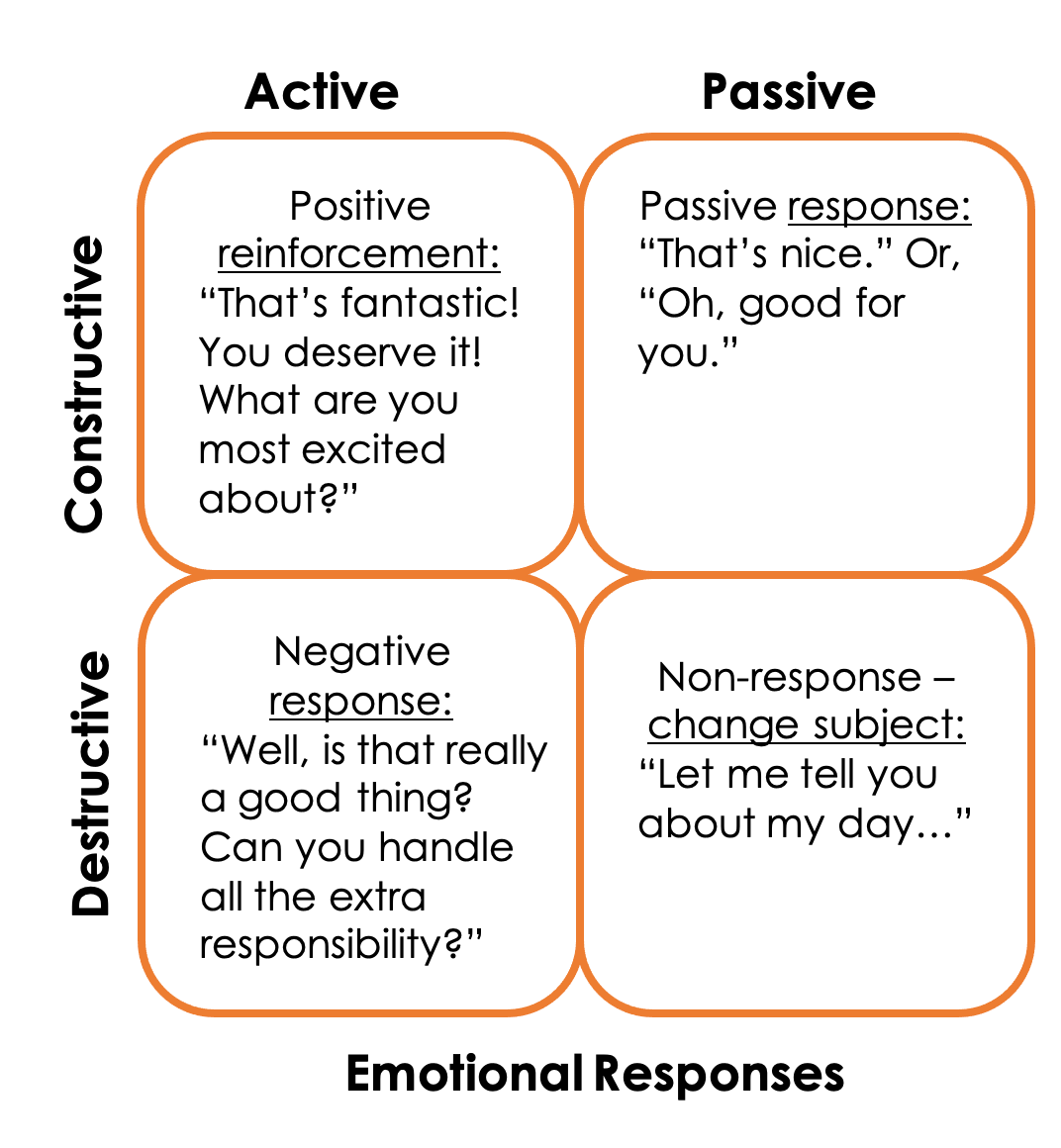 We know the head brain has receptor sites for various neurotransmitters. It's not much of a stretch to think that our heart brains would have similar emotional receptor sites for each of the four kinds of responses in this matrix. Whichever quadrant we speak from will light up that same quadrant in the listener. You can think of this as heart-brain mirror neurons.
Let's look at an example. Suppose we're talking with a friend and they tell us that they just received a job promotion. The diagram to the left illustrates four different ways we might respond to them verbally, each of which coordinates an emotional message between our heart brain and theirs.
What we say, along with how we say it, will provoke an emotional reaction.
Self-observation: Begin to notice how you respond to the people closest to you when they share good news with you. How often are you operating from an active constructive stance? How often from the other stances? Is this surprising to you? What supports you in keeping up an active constructive approach? What makes active constructive challenging? What will you do with this new information?
The next post will look at the gut brain coordinate system and how our bodies communicate messages that may or may not be aligned with our words.
---
Wildflowers
by Ken Homer
Something different: here are a few pix of an amazing event that took place in 2009. An office park hydroseeded 5 acres of wildflowers. There were literally hundreds of thousands of flowers everywhere you looked. I spent hours walking among them. And I can attest that being around that many flowers had a profound and positive effect on my psyche. I wish they would do it again, but instead they landscaped the place with different plants. Too bad, it was quite a trip! I did make a screensaver from a bunch of these and one day I was doing a presentation on a 15' screen. I forgot the screensaver was on I left a slide up for a long time when it kicked in and people were like: Whoa! Where is that?!
(View on the web so you can click on each image to enlarge.)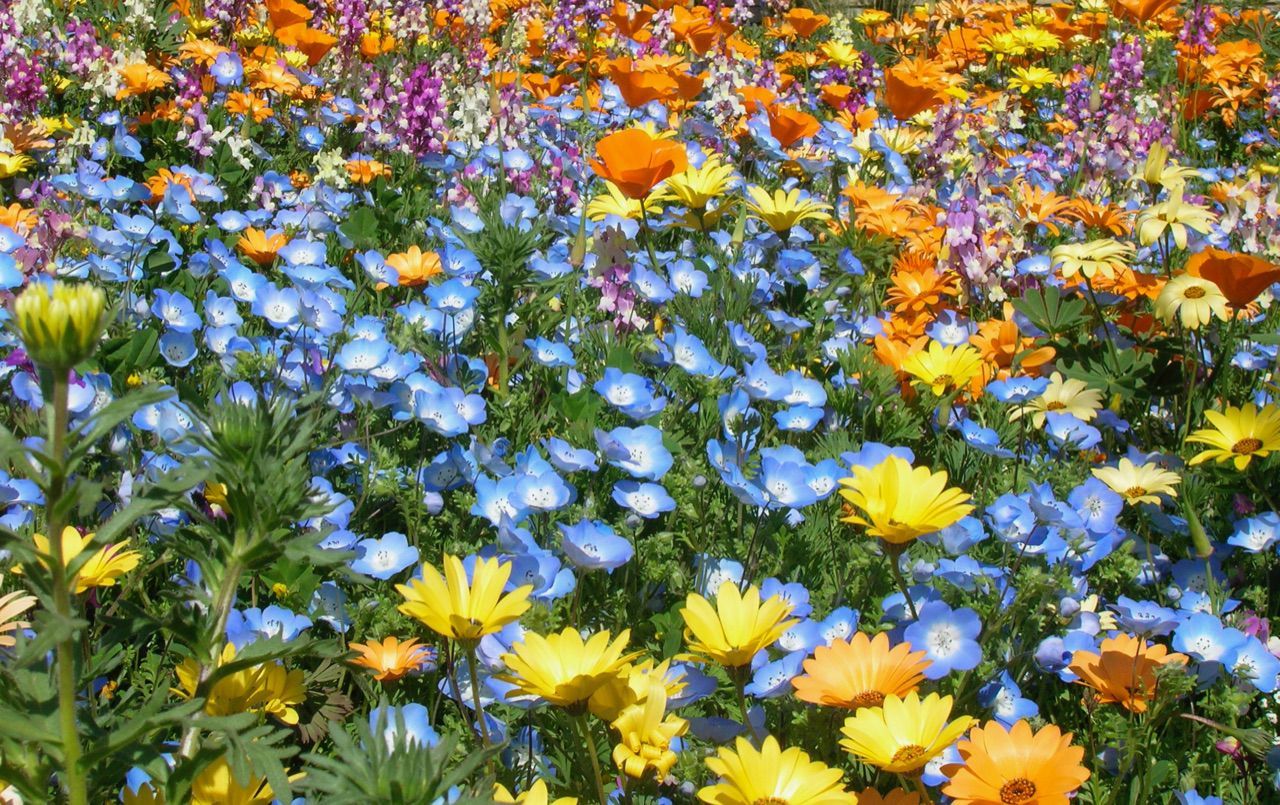 ---
Thank you for reading! Next edition will be published on 1 June 2022. Email Pete with suggested submissions by 31 May.
Big Hugs to Our Contributors: Judy Benham, Charles Blass, Joe Corneli, Ken Homer, Hank Kune, Grace Rachmany, Jordan Sukut. The Biweekly Plex Dispatch would not be possible without your help!
Correction, 2022-05-21: In the initial version of this post, the wrong diagram was included for Ken Homer's The Power of Three: Emotional Intelligence in Conversations. BPD regrets the error. This page has been updated with the correct diagram.