Plex: 4 January 2023
Themes; Candles for Ukraine; Language, Landscape, Light; Wisdom Jam Afterflow with Ward Cunningham; Potpourri '23; Living Between Worlds; The Co-Intelligence Institute; Spherical Model of "The World"; "Augmented Intelligence" Instead?; Lionsberg First Meeting; Creating Economic Justice in Your Town

Happy New Year!
The Biweekly Plex Dispatch is an inter-community newspaper published by Collective Sense Commons on first and third Wednesdays of each month. Price per issue: 1 USD, or your choice of amount (even zero).
In This Issue
---
Themes (killu sanborn)
Candles for Ukraine (killu sanborn)
Language, Landscape and Light (Hank Kune)
Turn of the Phase: Wisdom Jam Afterflow with Ward Cunningham + Potpourri '23 (charles blass)
Sunny Days (Ken Homer)
Living Between Worlds Fourth Season (Gil Friend)
The Co-Intelligence Institute (John Abbe)
A Spherical Model of "The World" (Ken Homer)
Scenes From the Big Apple (Ken Homer)
"Augmented Intelligence" Instead? (Klaus Mager)
Lionsberg First Meeting of the New Year (Jordan Sukut)
Towards Creating Economic Justice in Your Town (Kevin Jones)
---
Themes
by killu sanborn
I'm inspired by the video on themes for the new year. Since one of my quiet decisions is to handle what comes my way right away rather than file for action, I pushed myself gently but firmly to act on Themes, as it felt inviting. Here is what I got:
Winter of health, light and joy
Spring of strength, connection and emergence
Summer of clarity and freedom to be my highest self
Fall - we'll see
Winter - I'll know the theme when it arises!
[Ed. note: When I sent out the call for submissions for this issue of Plex, I shared a video discussing a friendly alternative to New Year's resolutions, a "theme" for the year (via Quinn Norton). Killu was inspired to share her themes above. – Pete]
---
Candles for Ukraine
by killu sanborn
For your consideration: A good friend is partnering with the Ukrainian railroad to send 21 pallets of candles from Poland to Ukraine. Sebastian is a Swedish filmmaker working with Chef José Andrés of World Central Kitchen, living in Kyiv right now. The group is raising money via Kickstarter: Candles for Ukraine in times of electricity blackouts.
A message from Sebastian:
Why do we bring candles to people ? Everyone has candles at home but they are low quality, burn fast and the good ones cost too much .. too hard to find. We will gift candles to people as surprises when they sit on a train going to a place with little or low electricity. It will be the most amazing candle they have ever seen, with an amazing message of Ukrainian pride. "The real light is in the heart of every Ukrainian". Blue and yellow. 90 hours of light, unheard of ! So.. these candles 🕯️ are a surprise gift to people who are traveling home at a dark moment in their life.. a reminder that they are not alone.
---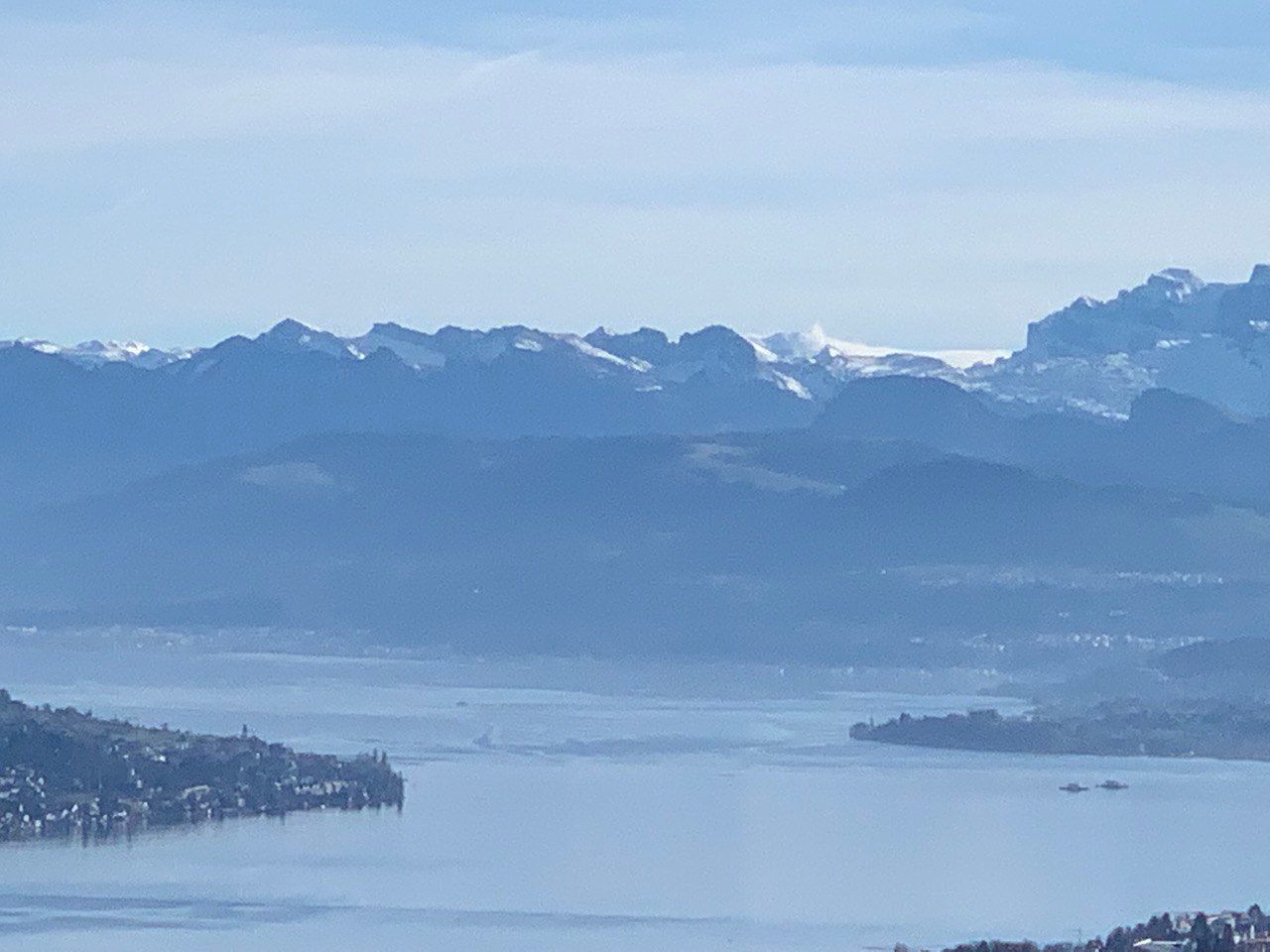 ---
Language, Landscape and Light
by Hank Kune
Speculations on light, landscape and language to greet a new year.
At this time of year light is so important, here on the west coast of Ireland.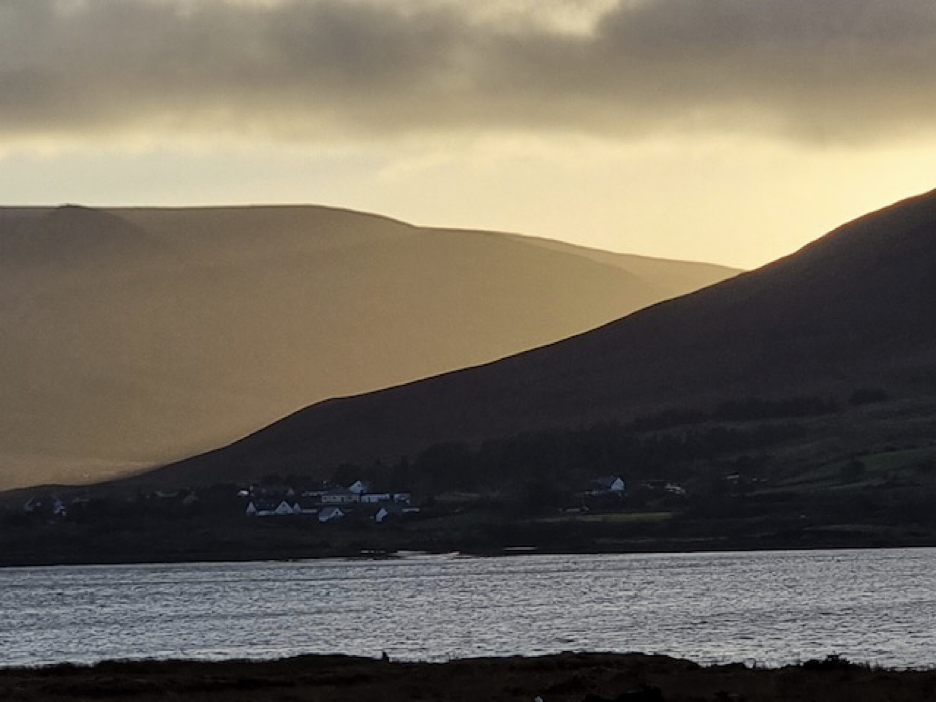 We see how it illuminates and enlivens things, provoking and disrupting shadows, welcoming new understandings of the world. Even through the cover of clouds and winter showers, it brings landscapes to life.
Mornings, first light comes later here than most other places, at just before nine. Most mornings it rains, or threatens to rain; and rain-light keeps the landscape near. Then in the afternoons it clears.
Last light is lovely, it's the best, showing off the winter colors of the west: amber, mauve, red and many wintry greens. Light makes the world a beautiful thing.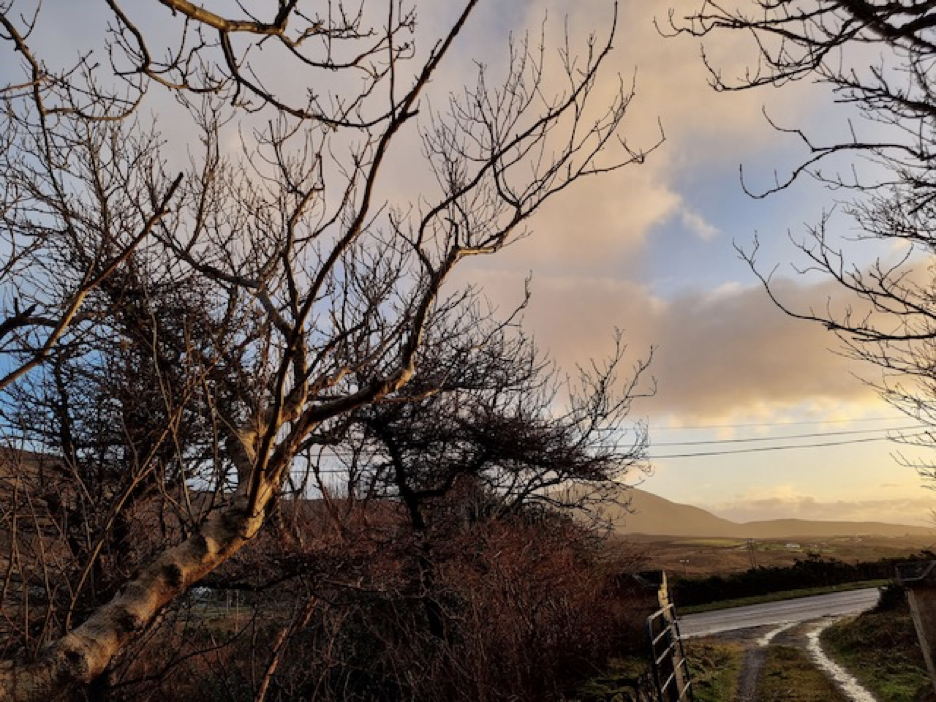 I have just started reading a fascinating book about the Irish landscape and the Irish language: 32 Words for Field.
It describes the way Irish speakers (from thousands of years ago, until recently) encoded their acquired knowledge, learnings, wisdom, insights and poetry in a language describing specific elements of landscape, differentiating dozens of nuances in nature and culture by naming them, a new word for each idea separately: 32 kinds of fields, 18 kinds of holes, 16 words for orienting yourself by the sun, 9 words for waves ...
A hole made by a spade in the earth, a hole made by water eroding a stone, a hole made by a lobster burrowing for safety in the sand, a hole made by needle pricking fabric, another for a needle pricking skin.
A field with right angles, a field where gorse once grew and was removed by burning, another such field where gorse was cut by scythe, a sheltered field where a mare may have its foal, a field for cows before milking.
Lessons of nature and culture (the world worked by human hands) passed down through generations and centuries. Essential ways of reading landscapes, of negotiating with worlds natural and man-made by looking at things and really seeing what is there, and once seeing them dancing with words through the world.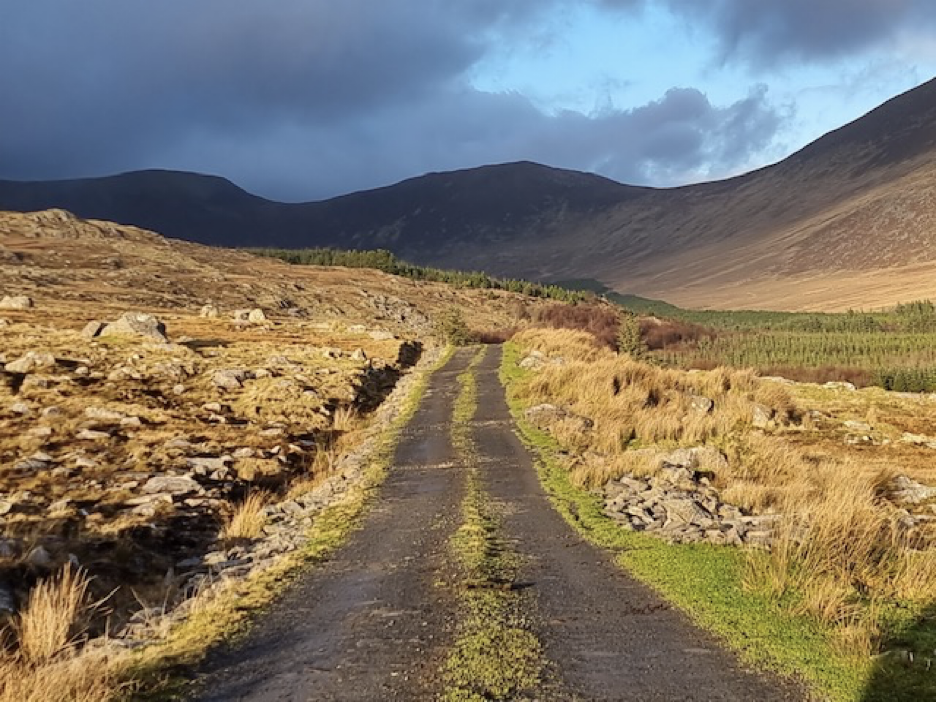 This language is vanishing with the last fluent Irish speakers, vanishing along with our capacity to discern 'difference', and an interest in making this distinction. Today we seem to live by lumping things together without paying much attention to difference. Using categories to ignore (or avoid) trying to express clearly - or poetically - what we want to say. "Keyword thinking", as my sister Beverly, who runs Creative Alternatives in New Mexico, calls it, "making our experience of the world more mundane".
A shaman she knew once told her about 'seeing things as if we could hear them speak'. An almost-lost art now. Curiosity, it seems, may be going the same way. "Taking time for curiosity is no longer the norm".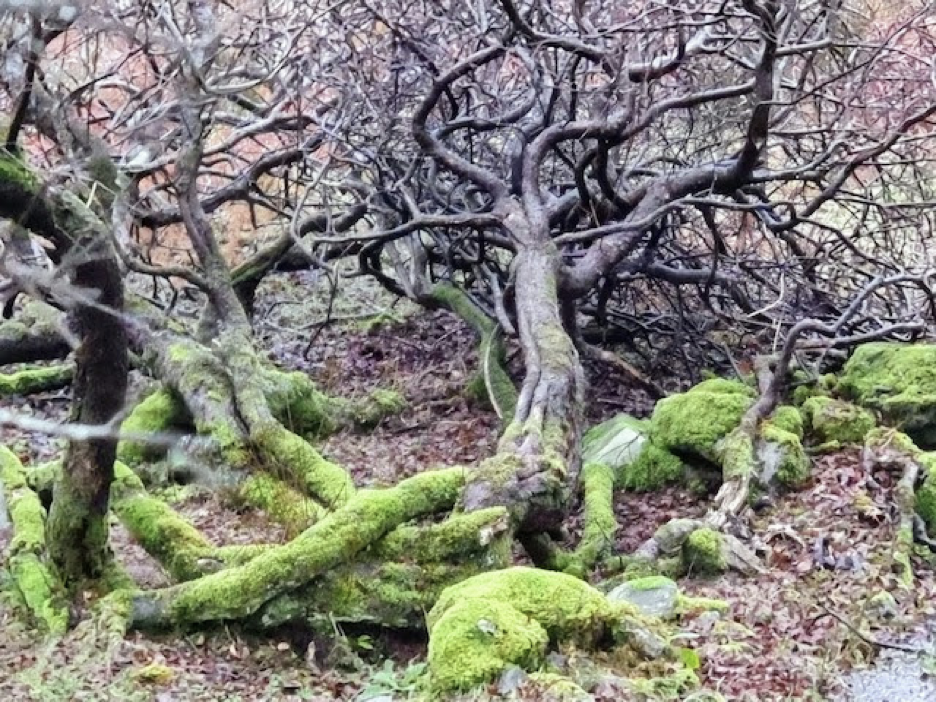 In Irish, many of these words are very old (just as the worn-down mountains and rounded hills of County Mayo). Some go back many thousands of years (although scholars don't all agree on how many).
As Manchán Magan tells us in his book, there is an old Irish saying: "Three times the lifespan of a whale is the lifespan of a ridge, three times the lifespan of a ridge is the lifespan of the world". Ancient Irish people saw the whale as living for 1,000 years. That made the ridges 3,000 years old - corresponding to the beginning of cultivated crops in Ireland - and the lifespan of the 'world' as 9,000 years, corresponding to the first appearance of people on this island.
A lot of time encapsulated in a single saying, related to a landscape of agricultural ridges which can still be seen today, not 20 kilometers from where I am writing.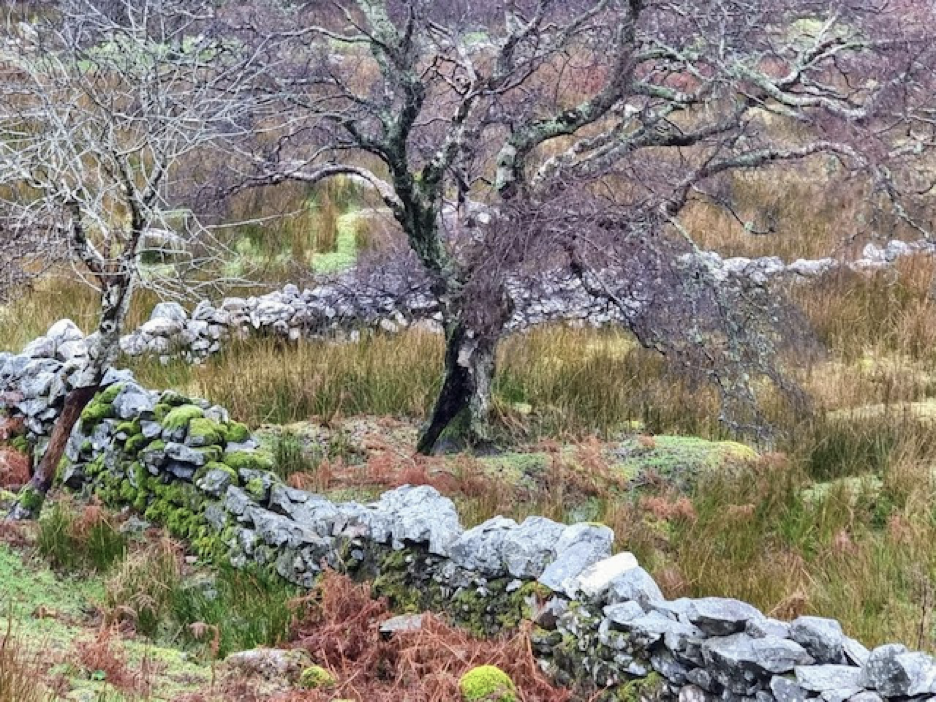 This language of landscape contains the power to enchant us and draw us in; or refuse us and keep us out. We often refer to the powers of landscape. In some cultures, the words are still here, even though the perceived need for noticing is no longer so strong.
How much do we 'need' to notice when navigating through today's uncertainties, or tomorrow's ambiguity? Can we notice our way into the book of the world, into a library of alternative worlds,  a range of "adjacent possibles"? How much light do we need to see them?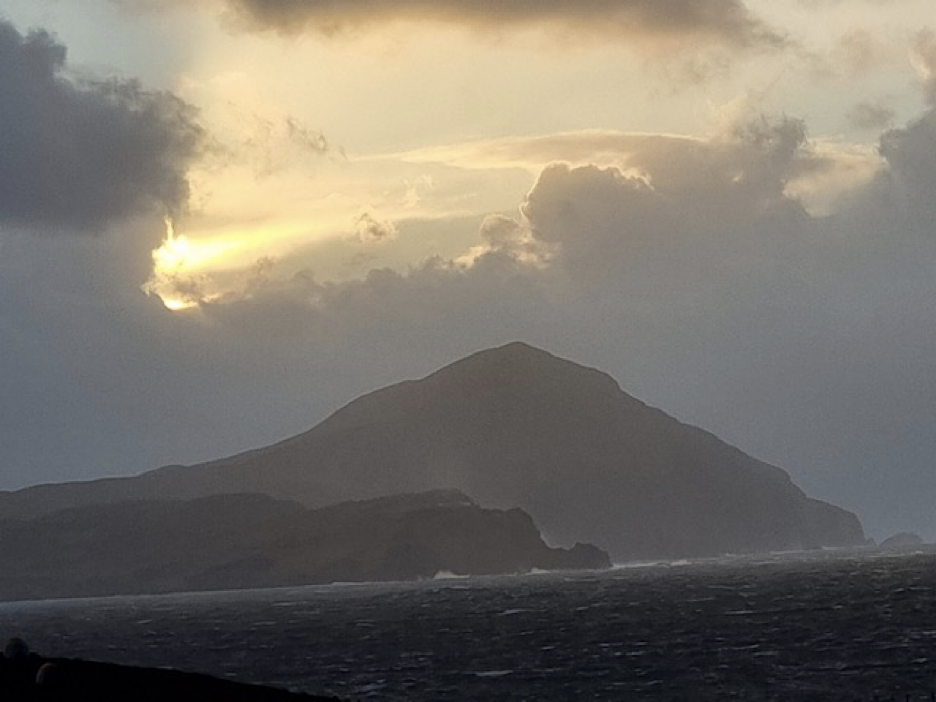 I know a number of places where light does special things to landscapes. Both northern New Mexico and the west of Ireland are magical landscapes for me, the one wet and chilly, the other hot and high. Does an old language of landscape also exist in northern New Mexico? In native American languages not yet lost today?
Beverly again:
"We do have terms for different types of snow to differentiate an early winter snow (a male snow, very dry and powdery) from a late winter/early spring snow (a female snow, very wet and heavy); a word for rain that doesn't quite touch the ground (virga), a word for snow that comes down in pellet form (hominy snow or grapple) and different color descriptors for light to describe times of day, or weather or seasonal variations. For example if the light turns yellow (even in the middle of the night) it means that a snowstorm is about to begin. The light outside my window now is lead gray, as opposed to steel gray, soft gray, or iron gray, all of which mean different things in terms of imminent weather".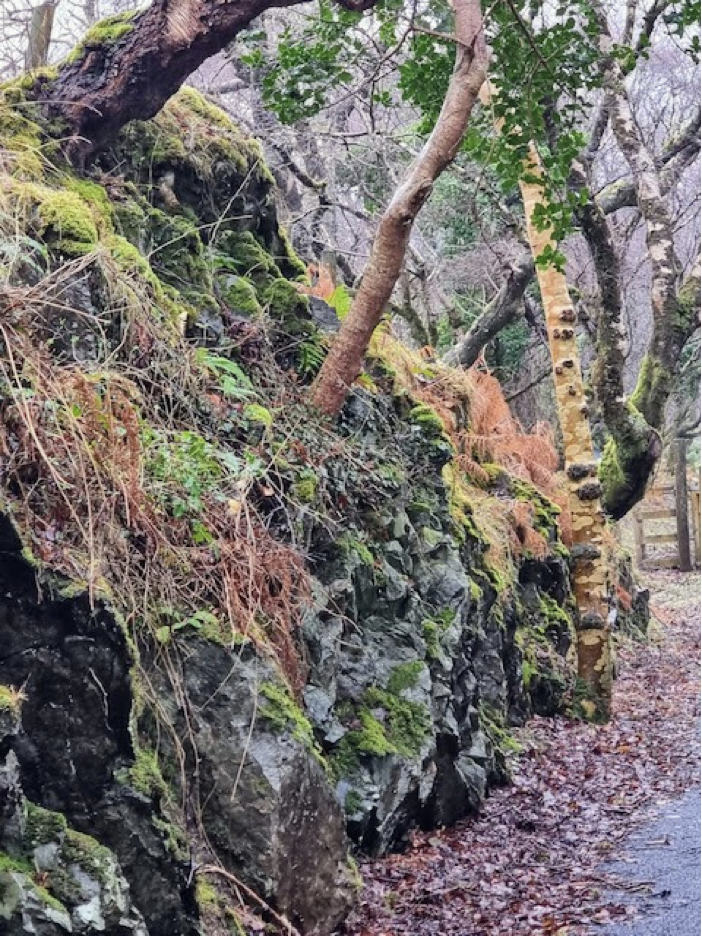 Does this language of environments and light exist in other places? The songlines of Australia come to mind. Does it exist even in cities? In images from telescopes like the James Webb, plotting the light of the cosmos? In the emerging metaverse? What roles does light play there?
Considering how important light on our or planet is, is there a universal language of light? We know about Goethe's language of light (conceived as experiences of the eye), and Isaac Newton's (which denied the need of an eye). Are there existing lexicons of landscape and light used by peoples today, and lessons to be learned from them about the value of paying attention to where we stand, where we think we are going, where we want to go — and what it looks like there. Lessons about enhancing our understanding of how the world works, about recovering our capacity to see and celebrate difference?
32 kinds of fields, 24 kinds of clouds, 18 varieties of roads, how many words for waves and hillsides and snow, and what rain does as it touches down on water, earth, roads, and the human imagination.
And why it may matter.
Speculations for a new year.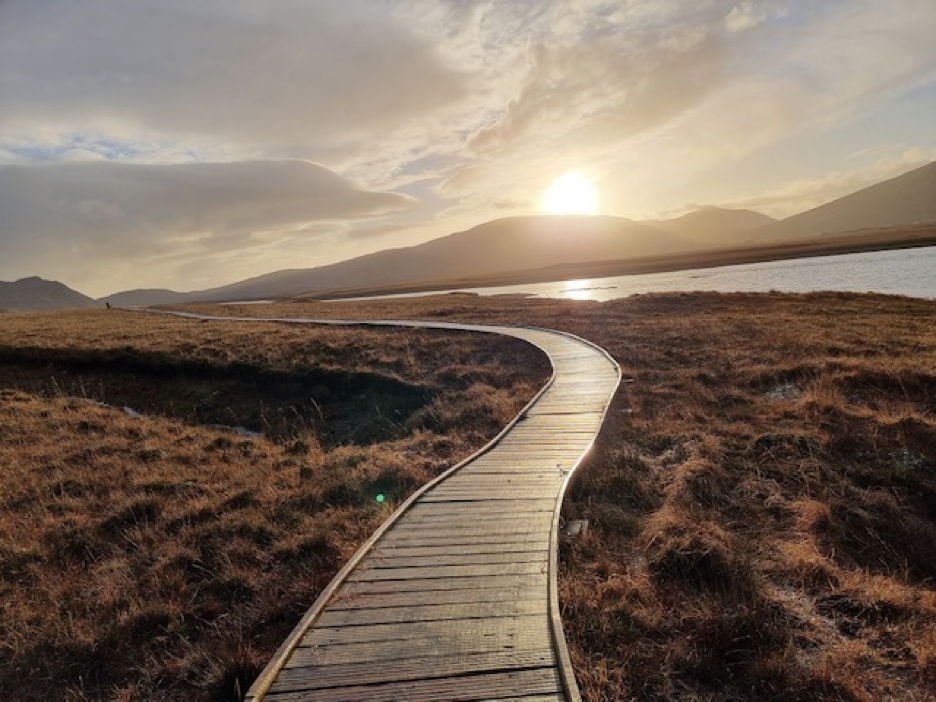 As all roads lead to futures, may ours lead to the light.
All the best for a happy and inspiring 2023!
~ Hank Kune
[With thanks to Manchán Magan, Beverly Kune, and Steve Smith]
---
---
Turn of the Phase: Wisdom Jam Afterflow with Ward Cunningham + Potpourri '23
by charles blass
HNY & goodness to all <3
a few things, potpourri upon the turn of the phase:
excited to share Part 2 (aka Afterflow) of the Wisdom Gardening Jam (November 1st), now up, featuring extended forays with Ward Cunningham and friends from Kernel & the Cicosphere (more context in November's Plex CoDebrief), yielded deep insights into Doug Engelbart & early days of networked computing, roots and future of Wiki, indigenous protocols, and more
Musings on the passage of time included this New Year's Day message from Gien Wong in the CICOLAB Telegram channel:
"Today the calendar rolls over to a new year! Yet, at the same time, it has only advanced another day. And at the same time, have we ever left the present moment? We can't change ourselves, the conditions of our lives or of the world overnight, but we can take the opportunity to reflect on the period of 365 days that have just passed us by, take stock, and reflect on what we can do to make our next moments alive more meaning-full, more joy-full, more wonder-full, more beauty-full, more peace-full, more bliss-full. For we are the architects of our future, and our imagination is our greatest tool."
(my response)
"every day the pages flip…. time to take stock of our calendars…!
which ones are useful, meaningful, when/where/how ?!
and why, how do we consider the sources and
purposes of such structures, institutions ?"
updates & invitations en route from Noonet, as we start to organize a Consortium for Portable Communities….
my new favorite word, Pareidolia, discovered in an interesting piece on the recently discovered train tracks on Mars
Other stuff rocking my world lately:

How Europe Stole Africa (so quickly)
dizzying, map-driven, ruthless account of a
dizzying, map-driven, ruthless scenario
by Johnny Harris (Sources)
more contemporary exponential, multi-dimensional colonialism courtesy a marvelous, dank exegesis of Meta's Super Bowl commercial
plus
Whitney Webb…Woww
and, in contrast to colonialism:
a Swiss bunkers lens on "re-examining neutrality in a changing world"…
(Johnny Harris rocks)
"dig!"
Pogo: "We Have Met the Enemy, and He is Us"
Image via Stephan Kreutzer
Ornette Coleman on Sound Grammar
---
Sunny Days
by Ken Homer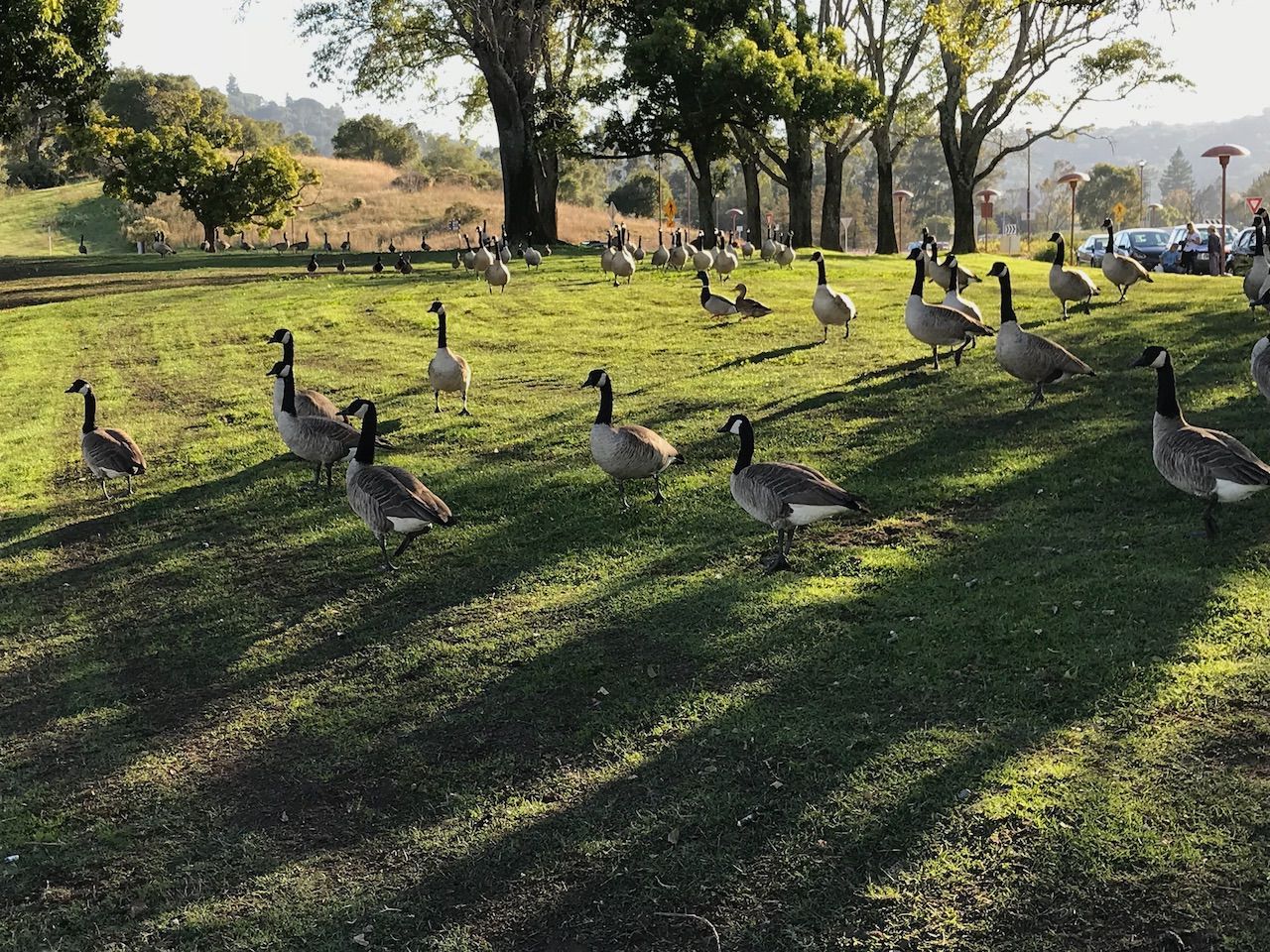 ---
Living Between Worlds Fourth Season
by Gil Friend
"New worlds don't just happen. We speak them into being…"
Living Between Worlds returns for its fourth season Wednesday January 18 (from 12p-130p PT) and every third Wednesday thereafter.
In these monthly calls, cohosted by Gil Friend and Ken Homer, we explore the challenges of navigating the world of messes we've inherited and built—from climate and Covid to biodiversity and fascism to identity and pluralism—with grace, dignity, and power.
You must pre-register to attend.
---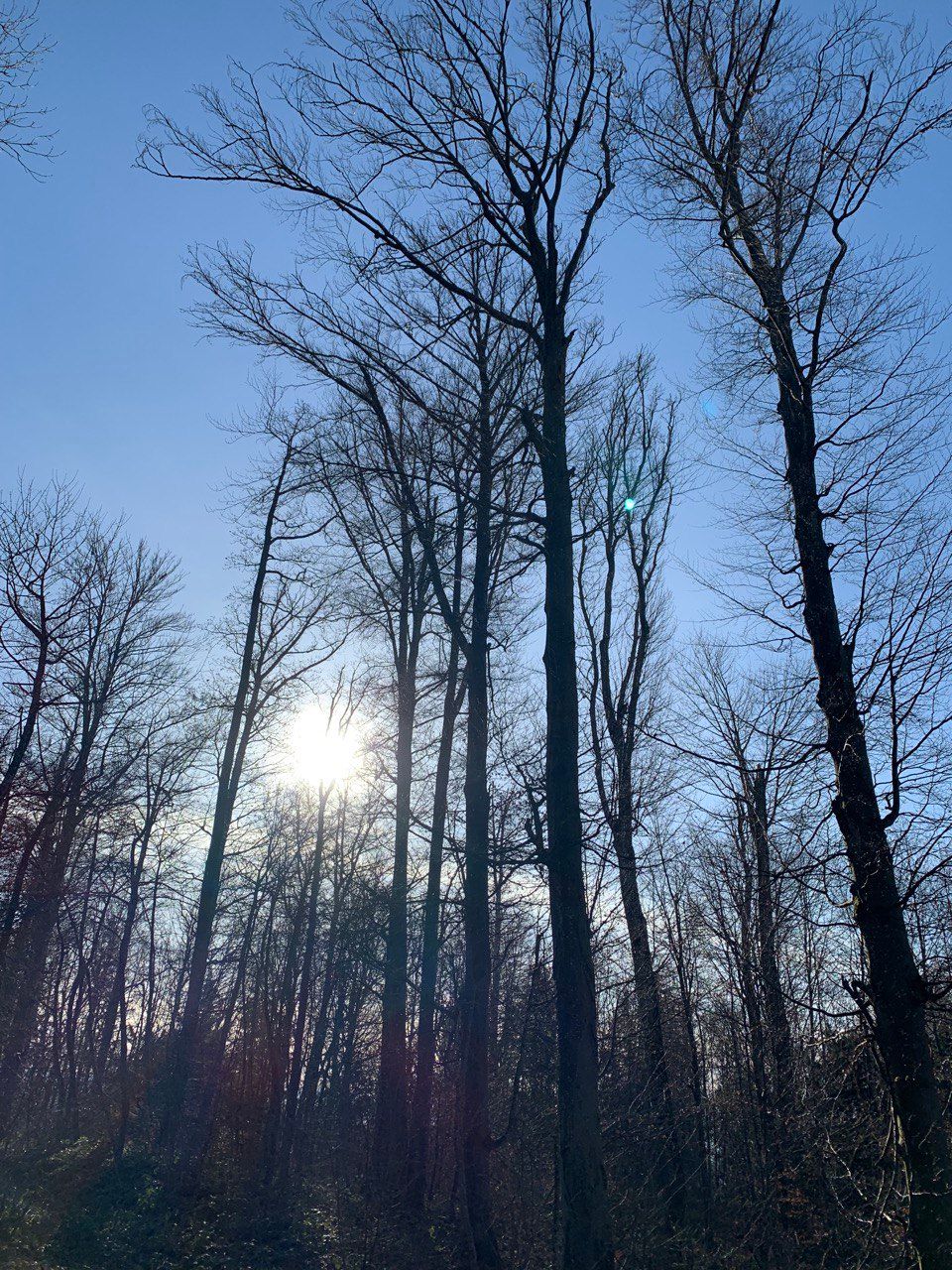 ---
The Co-Intelligence Institute
by John Abbe aka Slow
For decades now my long-time friend and fellow activist Tom Atlee has been curating the growing world of grassroots co-intelligence and generating theory from it, as in his first book, The Tao of Democracy. (Tom was also mentioned in the 16 November Plex newsletter, in Charles & Peter's co-debrief of the Community Wisdom Gardening event.)

In the past few years, a new board has been hard at work to grow the Co-Intelligence Institute (CII), the small nonprofit Tom founded. The new board, with members from age 30s to 70s, along with other associates have been mostly heads-down this year, and this work has now borne some fruit we can announce publicly:

First of all, we have a brand new website, at a new URL -
http://co-intelligence.institute/

It highlights three areas of focus for the Institute's past and future work promoting and developing co-intelligence, with each area having plenty to dig into. For example, our Learning Community page points to many public events, including a recent Real World Co-Intelligence call, Exploring the Austrian Climate Assembly (a call recording is available). This was a deep learning experience for many who attended including the presenters, who appreciated the opportunity to see their own work in a broader context.

Institute Associate Rosa Zubizarreta is the lead organizer of these calls. As she wrote in a CII newsletter, she came across the work of the Reimagining the Civic Commons movement at a recent "Reimagining Democracy" conference, and our January Real World Co-Intelligence call will feature a speaker from that world. If you're interested, you can sign up to get an email whenever these monthly calls are announced. Other upcoming events on our Learning Community page include a four-session book group, and a patterning ritual for the New Year.

Another thread of our work is transformational storytelling. We showcase some case studies on the Real-World Examples page. These include classics such as the Maclean's magazine 1991 "People's Verdict Experiment" (including links to the 1999 interviews Tom commissioned). Also a very up-to-date article by CII board member Andy Paice, "Polis & the Austrian Citizens' Climate Council." And the 2015 use of Pol.is by vTaiwan which achieved a broad consensus among both traditional taxi and Uber drivers.

On the Tools page, we offer a large sampling of group processes, organizations & organizing methodologies, and politics & governance resources which exemplify co-intelligence. Featured is the Wise Democracy Pattern Language cards, developed by Tom Atlee and CII Associate Martin Rausch. Among many other resources we also include a link to the story of CII's lengthy involvement with Dynamic Facilitation as a sense-making social technology, including how it spread to Europe and its uptake in Austria in particular.

As with most nonprofits this time of year, we are fundraising to continue and expand our work in 2023. If you like what you see on our website and would like to support more of that, here is our donations page.
---
---
A Spherical Model of "The World"
by Ken Homer
For many years I thought  of "the world" and "the planet" as referencing the same thing. But recent developments in my understanding now have me thinking they each reference something quite different. I've been working on a conceptual model to illustrate the differences. This is only a map/model and is a work in progress. It will, by necessity, fall short of capturing all the complexity involved. I hope you'll find some utility in it and I welcome feedback to help make it clearer.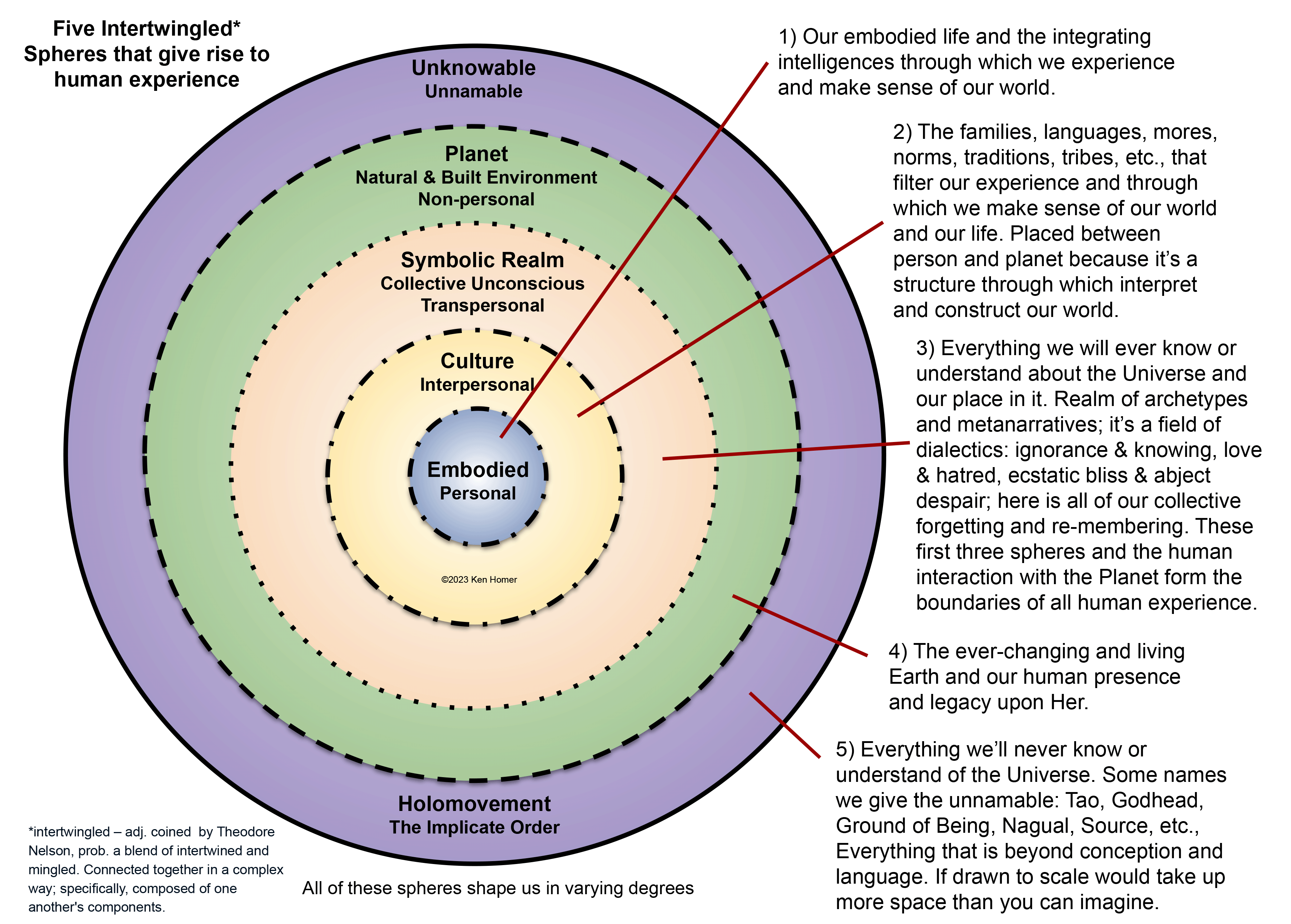 ---
Scenes From the Big Apple
by Ken Homer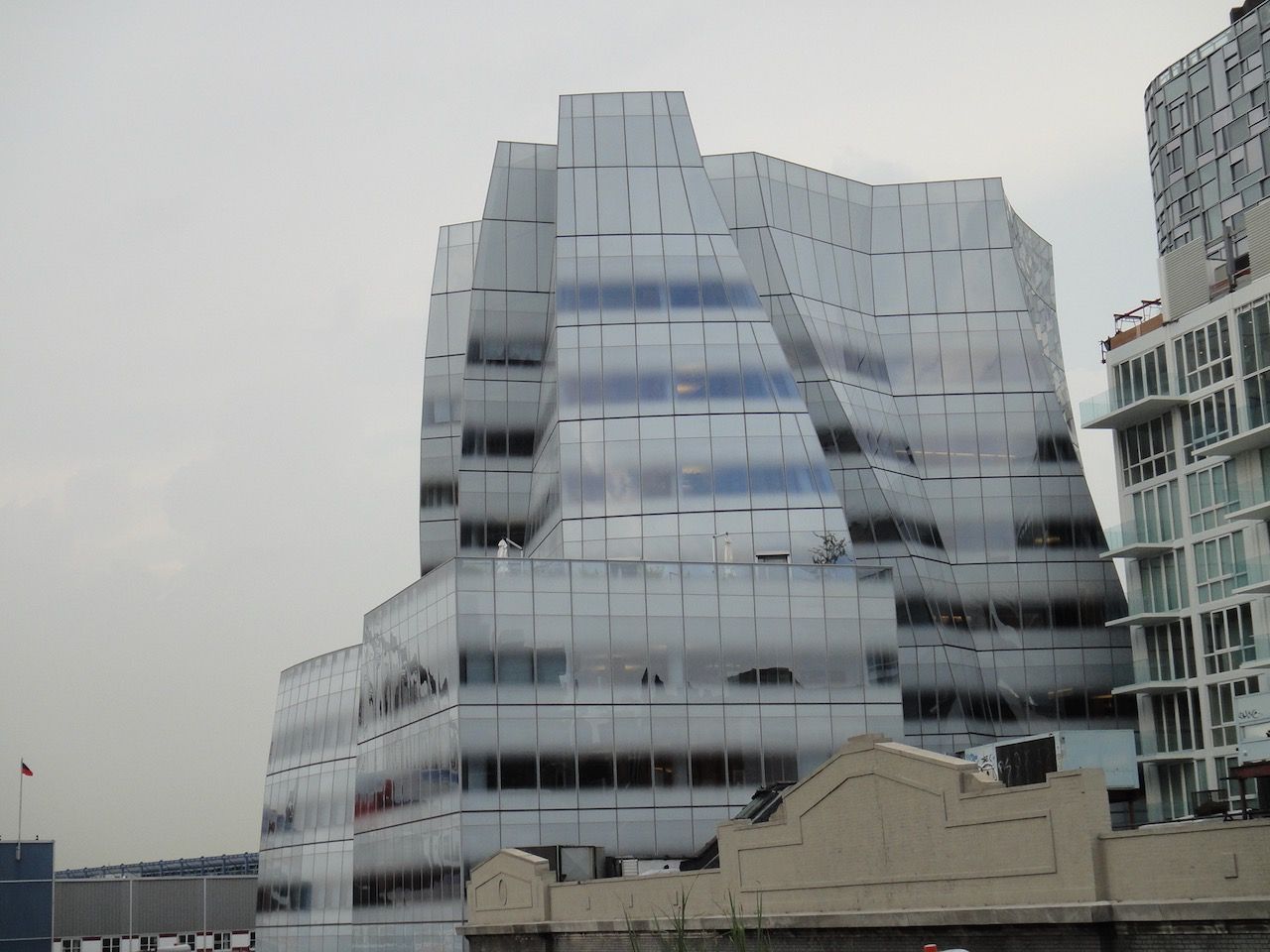 ---
"Augmented Intelligence" Instead?
by Klaus Mager
When we talk about AI tools, ChatGPT, amazing texts being generated by AI, is that really useful when seen as 'artificial' intelligence? Would it not make more sense to be seen and considered as 'augmented' intelligence?
What comes to mind:
There's a catch — true artificial intelligence does not exist and will not exist for at least a decade, even though the AI industry is predicted to be worth nearly $3 billion this year alone. Because of this reality, it begs the question: If we aren't currently experiencing true AI, then how can we categorize the current state of advanced algorithms and technology? The answer is simple. Right now, we're living in the era of augmented intelligence.
Augmented intelligence (AI), also referred to as intelligence augmentation (IA) and cognitive augmentation, is a complement—not a replacement—to human intelligence. It's about helping humans become faster and smarter at the tasks they're performing. At its core, augmented intelligence is not technically different from what's already being presented as AI. It is a rather different perspective on technological advances, especially those that allow computers and software to participate in tasks that were thought to be the exclusive to humans.
The reason I think this is an important distinction is its influence on the design phase. Social systems change requires people changing their mind, enabling behavioral adaptations. Instead of 'artificial' intelligence outlining what must be done, augmented intelligence will inform and create a deeper understanding of the as is scenarios facing humanity on an emotional level where change happens.
---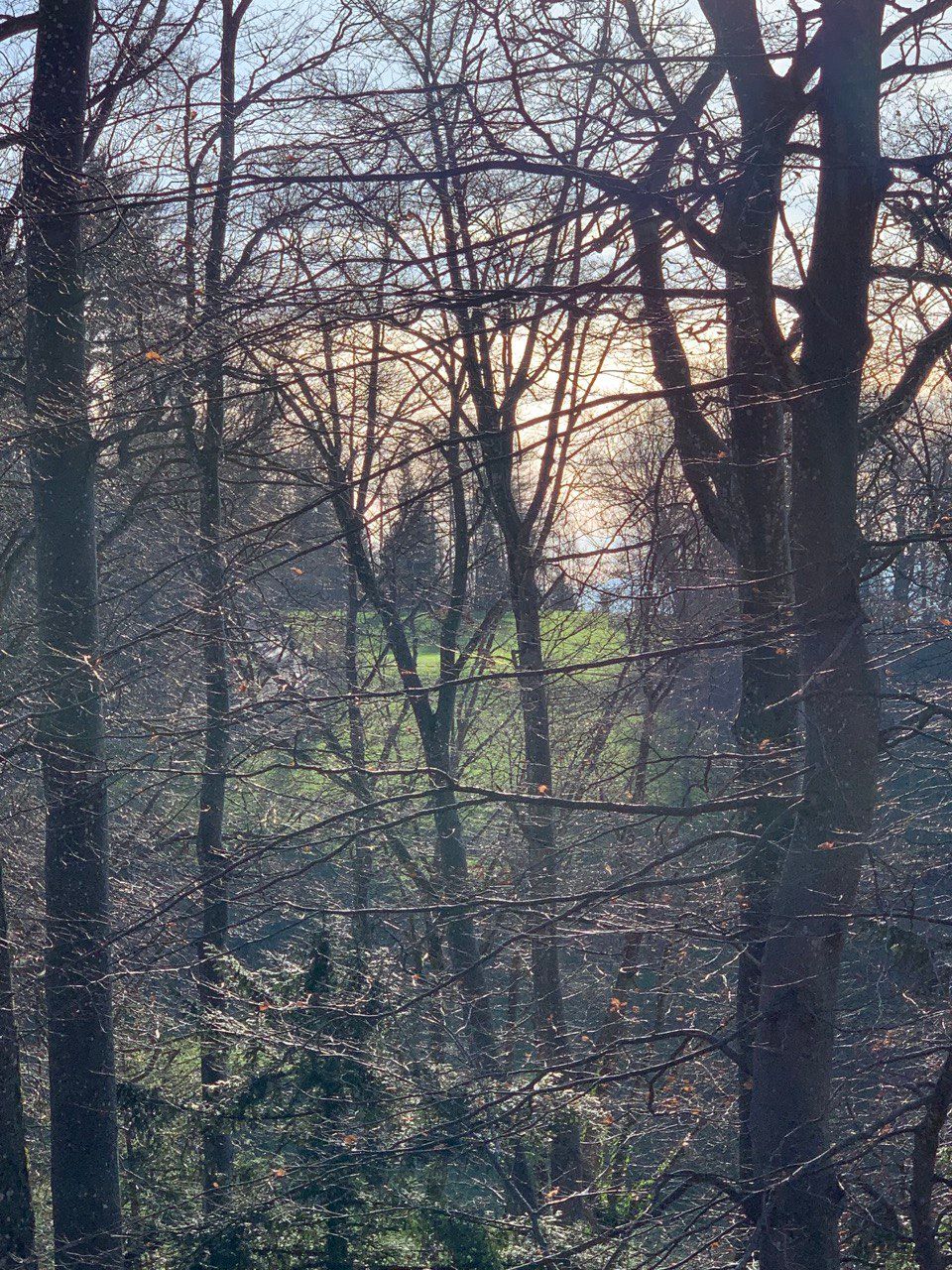 ---
Lionsberg First Meeting of the New Year
by Jordan Sukut
Bottom line up front: We are still here. We are full steam ahead. We are proceeding with "closing the boundary" around Lionsberg and setting up a formal membership organization so we can sustainably resource and support the movement indefinitely into the future. Email me at j@lionsberg.org if you want to learn more about joining our call next week.
Our call next week will be our first meeting of the new year and the start of onboarding. We will be closing all previous threads, resetting meeting agendas, functions, etc. for the new year, and starting "as if" from a clean slate and building up the core functions and components of the System and Movement 1 by 1 with quality and care. This is where we shift from exploring the Meta Project conceptually and building systems, infrastructure and processes (2017 to 2022), to actually building the serving and enabling organization to empower it to sustainably rise (2023).
We will differentiate out into two groups – Lionsberg members, who will have internal access to weekly content, meetings, networks, data sets, recordings, interviews, etc.; and friends who prefer to follow along from afar via a public facing monthly newsletter.
I hope to see you soon within the boundaries of the mythical and magical land of Lionsberg 😊 It's time to see if the small starting point we are holding in our collective hands can start rolling down the mountain and exponentially gain steam in 2023. If it doesn't… we will try again… and again… and again… until it finally works. This is about learning how to do together what hasn't been done, so let's be patient, steadfast, and persevere.
I look forward to serving you in the coming year. Let's make it one we will never forget.
With Love, In Community,
~ J
---
---
Towards Creating Economic Justice in Your Town
by Kevin Jones
Neighborhood Economics got funding for two years, with a verbal for a third. One thing we are going to do is create a database of platforms that bridge the racial wealth gap.
There is already an existing economic justice online marketplace, but all the other platforms are new methods of delivering capital to the people who don't normally get it.
The context, there is a 10x Black to white racial wealth gap in the US. The average Black family has $14k in net assets; the average white family more than $140k.
Our db will highlight and catalogue methods of asset creation across three vectors: entrepreneurship to create intergenerational wealth, housing, and commercial real estate.
There are a variety of new and emerging equity and debt funds for the first, and financial platforms that democratize asset creation around home ownership and commercial real estate. We will be tracking those for practitioners, donors, catalytic investors, local governments, policy makers at the federal level and think tanks, analysts, and local and sector focused media.
We will partner with related initiatives once we get it up and running. We want to point to what is newly possible to create economic justice in your town, based on real and relevant examples.
---
---
Thank you for reading! Next edition will be published on 18 January 2023. Email Pete with suggested submissions.
Grateful appreciation and thanks to John Abbe, Charles Blass, Gil Friend, Ken Homer, Kevin Jones, Hank Kune, Klaus Mager, Killu Sanborn, and Jordan Sukut for their contributions to this issue.